Danger level
:

9
Type:
Rogue Anti-Spyware
Common infection symptoms:
Installs itself without permissions
Connects to the internet without permission
Shows commercial adverts
Slow internet connection
System crashes
Annoying Pop-up's
Slow Computer
Other mutations known as:
Home Security Solutions
Infection Video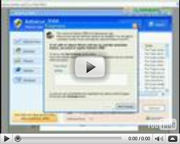 Internet Security Guard
Internet Security Guard is a fraudulent computer program that pretends to be a useful application while in reality it is a rogue that steals your personal information at the same time damaging your computer. It actually is a part of a wide network of rogues that has been troubling numerous users worldwide for quite some time now. Internet Security Guard is just another pesky program that you have to fight in order to continue using your computer as you are used to.
This rogue is usually delivered via fake online malware scanners or spam email. That is why you mustn't open mail messages from unfamiliar senders, especially those which come with attachments. Internet Security Guard usually hides in the attachment or in a link that is embedded in the message's text. The moment you click on the link, you initiate the automatic download and installation of Internet Security Guard and then the real problem begins.

Internet Security Guard performs a fake system scan, telling you that you have been infected with multiple threats and that you need to eliminate them immediately using none the other but Internet Security Guard, or else you might suffer terrible consequences. The thing you need to get rid of right now, though, is the rogue itself. Remove Internet Security Guard without further ado, and get yourself a legitimate security tool to scan your computer for any other malware, because rogues like Internet Security Guard seldom come alone.
UPDATE
It has been determined that Internet Security Guard is from the same family of rogues as Home Security Solutions, Home Safety Essentials, Anti-Malware Lab, System Smart Security and so on. Since the rogue is being distributed via malicious websites, a few of these websites have also been unveiled:
http://save-secure.com/
http://securityearth.net/
Also, the threats that Internet Security Guard detects are obviously not real, but they are there in your computer, because the rogue CREATED them itself. The files that are detected as malware are completely harmless. For example, fan.sys, CLSV.dll,ppal.sys, snl2w.drv, tjd.tmp and the like are very far from being malicious, but Internet Security Guard wants you to think these are terrible viruses, because it wants to swindle you out of your money.
Other parasites "detected" by Internet Security Guard include Trojan-PSW.Win32.Fantast, Troja-Spy.HTML.Bayfraud.hn, Trojan.Win32.Faker.a and so on. This might look as if the rogue is really good at protecting your system but you should definitely know better. You should also ignore the following messages received from Internet Security Guard:
Address space conflict
Warning! Access conflict detected
An unidentified program is trying to access system process address space.
System Message
Your PC may still be infected with dangerous viruses. Internet Security Guard protection is needed to prevent data loss and avoid theft of your personal data and credit card details. Click here to activate protection.
Memory access problem
WindowsErrorForm has encountered a problem at address 0x1FC408.
We are sorry for the inconvenience.
These messages only tries to push you into purchasing a completely worthless product. The messages will cease appearing, if you "register" the program using one of the following codes:

K7LY-R5GU-SI9D-EVFB
U2FD-S2LA-H4KA-UEPB
K7LY-H4KA-SI9D-U2FD
U2FD-S2LA-H4KA-UEPB
Once you have "activated" the rogue, before it manages to destroy your system, remove Internet Security Guard from your computer immediately.

How to renew your internet connection:
This rogue antispyware blocks your Internet connection to prevent you from removing the rogue application. To enable the Internet connection, please follow these instructions:
Open Internet Explorer and go to >Tools< select >Internet Options<

Select >Connections<

Select >LAN Settings<

Now you need to uncheck the checkbox labeled >Use a proxy server for your LAN< in Proxy Server section. Then press the >OK< button to close this screen and press the >OK< button to close the Internet Options screen.

Now you can download the SpyHunter scanner and remove the infection.

How to manually remove Internet Security Guard
Files associated with Internet Security Guard infection:
%AppData%\Internet Security Guard\ScanDisk_.exe
%AppData%\Internet Security Guard\Instructions.ini
%CommonAppData%\[random]\[random].cfg
%CommonAppData%\[random]\ISG.ico
%CommonAppData%\[random]\[random].exe
%AppData%\Microsoft\Internet Explorer\Quick Launch\Internet Security Guard.lnk
%Desktop%\Internet Security Guard.lnk
%StartMenu%\Internet Security Guard.lnk
%Programs%\Internet Security Guard.lnk
Internet Security Guard processes to kill:
%AppData%\Internet Security Guard\ScanDisk_.exe
%CommonAppData%\[random]\[random].exe
Remove Internet Security Guard registry entries:
HKCU\Software\Microsoft\Windows\CurrentVersion\Run "Internet Security Guard" "%CommonAppData%\[random]\[random].exe" /s /d