Danger level
:

9
Type:
Rogue Anti-Spyware
Common infection symptoms:
Installs itself without permissions
Connects to the internet without permission
Slow internet connection
System crashes
Annoying Pop-up's
Slow Computer
Infection Video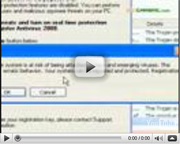 Super Av
Super Av is a rogue antispyware application which comes from a long line of fake computer security products. This computer threat belongs to a huge family of rogues, and it shows how zealous the creators of this malware are, when they try to achieve their goal. The main aim of Super Av and the people behind it is obviously your money. The rogue can steal your money before you know it, so you need to be extremely careful when you get infected and you should NEVER give away your credit card information to something like Super Av.
Along with ignoring Super Av urges to acquire the "full version" of the program, you should also ignore fake security messages you receive from the rogue, because first and foremost, the errors that Super Av tells you about are fake. The rogue generates them itself to make you panic. Yet, the problem cannot be solved only by giving Super Av a cold shoulder. The rogue will remain in your computer continuing to damage it if you do nothing about it.
Your job is to remove Super Av from your system permanently using a reliable antimalware tool. With a tool you will be able to get rid of the rogue automatically, and the program will scan for any other threats in your system, so you can be sure that with an antimalware program you will kill two birds with one stone.
UPDATE
Super AV is a direct clone of the well known and despised Antivirii 2011. Some of the fake security messages Super AV will spam its victims with include the following:
Super AV – Malware detected
Threats have been detected!
Warning! Some Serious threats have been detected to your computer, that need to be removed instantly or they may cause critical damage to your computer!
Super AV can remove these viruses easily, and prevent damage to your personal computer.
If you click "Remove viruses", you can protect your computer from destruction, however, if you click "Continue unprotected, your identity may be compromised and you may lose all of your important files and experience system slowdown.
Your system is infected! Your computer is compromised by hackers, adware, malware and worms! Super AV can remove this infection. Please click this icon to remove threats"
Symptoms associated with Super AV include Google and Yahoo searches being redirected. Users' Desktop background images and browser homepage settings are changed without their permission. It will also slow down the PC and delay opening applications, slowing down the Internet connection and make it difficult to shut down the computer.
You can also try using this registration code which helped to disable earlier released threats from this family of rogues: 8425-3952-7321-4410.

How to manually remove Super Av
Files associated with Super Av infection:
bfctpwcb.exe
%windir%\system32\[random].exe
Super Av processes to kill:
bfctpwcb.exe
%windir%\system32\[random].exe
Remove Super Av registry entries:
[HKEY_LOCAL_MACHINE\SOFTWARE\Microsoft\Windows\CurrentVersion\Run]"Security" = "%windir%\system32\[random].exe"