Danger level
:

9
Type:
Rogue Anti-Spyware
Common infection symptoms:
Installs itself without permissions
Connects to the internet without permission
Normal system programs crash immediatelly
Slow internet connection
System crashes
Annoying Pop-up's
Slow Computer
Infection Video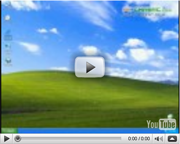 Antivirii 2011
Avoid installing Antivirii 2011 at all costs, because it is a dangerous rogue antispyware program that can damage your computer before you know it. It has been designed to look and behave like an official antivirus product, and actually a lot of users worldwide fall for this scam, believing that Antivirii 2011 is the antivirus program of their dreams. They soon find that their expectations are not met when this rogue cripples their computers and they are left with nothing but a piece of scrap. Antivirii 2011 derives from the same vindictive family of rogues as Antivirus Clean 2011 and will not stop until it manages to rip its victims off.
If you happen to have Antivirii 2011 in your computer, the first thing you have to do is ignore all of the fake security notifications that come from this rogue. These notifications slow down your computer and try to convince you that the things responsible for it are the multiple infections like Trojans and worms. Naturally, there might be a Trojan or two in your system considering the fact that you've got yourself Antivirii 2011, but this rogue NEVER reports about the real problem.
Here are only a few of the fake security alerts to be on the lookout for:
Your computer is in danger!
Antivirii 2011 has detected some serious threats to your computer!
These viruses need to be eliminated immedeately ! Please click this icon to remove threats.
Your system is infected!
Your computer is compromised by hackers, adware, malware and worms!
Antivirii 2011 can remove this infection. Please click this icon to remove threats.
There are various distressing symptoms associated with the Antivirii 2011 infection that will ultimately render your PC completely inoperable. Some of these symptoms vary from users being unable to launch applications on their PC as well as having blocked Internet connections. Other users also complained about extremely poor system performance and increased erratic system behavior. Antivirii 2011 will also generate and delete random Desktop items in an effort to further confuse the user and any installed security software.
Antivirii 2011 will only generate fake warnings in hope that you will buy the full version of the program. This is something that you should never do. Quite the opposite, you must close the program immediately and remove Antivirii 2011 from your computer as soon as you can, if you want to continue operating your machine just as you are used to.

How to manually remove Antivirii 2011
Files associated with Antivirii 2011 infection:
czwcldnm.exe
Antivirii_2011_Setup.exe
%Windows%\[random].exe
%Windows%\antivirii.exe
Antivirii 2011 processes to kill:
czwcldnm.exe
Antivirii_2011_Setup.exe
%Windows%\[random].exe
%Windows%\antivirii.exe
Remove Antivirii 2011 registry entries:
HKEY_LOCAL_MACHINE\SOFTWARE\Microsoft\Windows NT\CurrentVersion\Image File Execution Options\taskmgr.exe "Debugger"
HKEY_LOCAL_MACHINE\SOFTWARE\Microsoft\Windows\CurrentVersion\Run "Security"