Danger level
:

9
Type:
Rogue Anti-Spyware
Common infection symptoms:
Blocks internet connection
Block exe files from running
Installs itself without permissions
Connects to the internet without permission
Normal system programs crash immediatelly
Slow internet connection
System crashes
Annoying Pop-up's
Slow Computer
Infection Video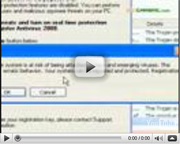 AV Protection 2011
AV Protection 2011 is a fake and harmful rogue antispyware application pretending to be a powerful security tool. This seditious rogue antispyware application, which derives from the same family of rouges as Cloud Protection, Guard Online, OpenCloud Security and OpenCloud Antivirus, enters the system surreptitiously and will remain hidden from the user's attentions until such time that it is ready to start its attack against the system.
AV Protection 2011 will also make use of any tactic at its disposal to facilitate its surreptitious entry to the system. This may range from using bogus online malware scanners and seditious browser hijacking websites as part of its online marketing campaign.

Once AV Protection 2011 manages to securely root itself into the system it will start its attack by starting a fake security scans each times the user logs on to the system. This fake scan will inevitably yield bogus results that will inform the user that his system is under attack. It will also inform the user that he needs to pay for AV Protection 2011 in order to stave off these attacks. Users are urged never to waste their money on any of this rogue's products, and to destroy AV Protection 2011 with the help of a powerful security tool. Soon after this fake security scan completes the user will be spammed with fake security messages in the form of annoying popups. Some of these popups read as follows:
Windows Security Alert
To help protect your computer, Windows Firewall has blocked some features of this program.
Do you want to keep blocking this program?
Name: Zeus Trojan
Publisher: Unauthorized
Warning! Infection found
Unwanted software (malware) or tracking cookies have been found during last scan. It is highly recommended to remove it from your computer.
Keylogger Zeus was detected and put in quarantine.
Keylogger Zeus is a very dangerous software used by criminals to steal personal data such as credit card information, access to banking accounts, passwords to social networks and e-mails.

As a further attack on the system AV Protection 2011 will prevent the user from establishing an Internet connection or from executing applications on the system. This is done in an effort to not only further panic the user into paying for the rogue, but also to prevent the user from downloading or running an application with the ability to detect and remove AV Protection 2011 from the system. Each time the user attempts to launch an application on the infected PC, AV Protection 2011 will generate the following fake security error message:
Warning!
The file "firefox.exe" is infected. Running of application is impossible.
Please activate your antivirus software.

Other symptoms of the AV Protection 2011 infection include extremely poor system performance and increased erratic system behavior. There is a way to disable all of these annoying symptoms and make it easier to get rid of AV Protection 2011. Enter the following activation key into the rogue and all the symptoms will immediately cease:
9992665263
In order to limit the damage this rogue will cause to your PC you will need to destroy AV Protection 2011 as soon as possible. This will not only help to permanently erase AV Protection 2011 but also to protect your PC against similar attacks in future.

How to renew your internet connection:
This rogue antispyware blocks your Internet connection to prevent you from removing the rogue application. To enable the Internet connection, please follow these instructions:
Open Internet Explorer and go to >Tools< select >Internet Options<

Select >Connections<

Select >LAN Settings<

Now you need to uncheck the checkbox labeled >Use a proxy server for your LAN< in Proxy Server section. Then press the >OK< button to close this screen and press the >OK< button to close the Internet Options screen.

Now you can download the SpyHunter scanner and remove the infection.

How to manually remove AV Protection 2011
Files associated with AV Protection 2011 infection:
AV Protection 2011.lnk
AV Protection 2011v121.exe
170.exe
12EDD.exe
AV Protection 2011 processes to kill:
AV Protection 2011v121.exe
170.exe
12EDD.exe