Danger level
:

9
Type:
Rogue Anti-Spyware
Common infection symptoms:
Blocks internet connection
Block exe files from running
Installs itself without permissions
Connects to the internet without permission
Shows commercial adverts
Normal system programs crash immediatelly
Slow internet connection
System crashes
Annoying Pop-up's
Slow Computer
Infection Video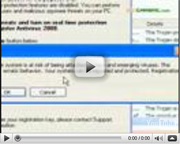 System Fix
System Fix is a fake defragger that derives from the same harmful rogues as the FakeHDD family of rogues. It will proceed to mess with your computer and eventually will lead to your system's downfall if you allow it to stay in your machine. This rogue antispyware application comes from a huge family rogues, and has many notorious names behind its back, as this new program is a direct clone of computer threats that have terrorized innocent users for months. The best way to deal with this problem is to remove System Fix at once.
Also, you should take into consideration various means of prevention, such as NOT CLICKING on anything that you see on your internet browser window. There are a lot of flash advertisements on the internet nowadays and, unfortunately, a lot of them are a part of the so-called Russian Business Network, distributing such rogues as System Fix.

Once System Fix manages to successfully ingrain itself into the system it will start its attack against the PC. This will happen by System Fix instigating a fake system scan which will inform the user that his PC is being overrun with numerous crippling errors. It will offer to fix these errors but only once the user pays for a System Fix license.
Shortly following this the user will start receiving falsely generated system messages in the form of annoying popups. These annoying popup messages will inform the user of the same and will encourage him to pay for System Fix. Do not believe any correspondence received by System Fix and be on the lookout for the following fake system notifications generated by System Fix:
Hard Drive Failure
The system has detected a problem with one or more installed IDE / SATA hard disks. It is recommended that you restart the system.
System Error
An error occurred while reading system files. Run a system diagnostic utility to check your hard disk drive for errors.
Critical Error
Hard drive critical error. Run a system diagnostic utility to check your hard disk drive for errors. Windows can't find hard disk space. Hard drive error.
Critical Error
Hard drive clusters are partly damaged. Segment load failure
Other symptoms associated with the System Fix rogue will include the user being denied access to his applications. These tactics are employed by System Fix to not only further panic and annoy the user but also to prevent him from running or downloading an application with the ability to detect and remove System Fix from the system.
Users also reported increased erratic system behavior and severe poor system performance. System Fix also generated and deletes random Desktop items in an effort to trick the user and any installed security software on the system. System Fix will hide or disable all Desktop Start menu shortcuts, so web browsers cannot be accessed.
In order to avoid all these annoying symptoms, enter this activation key:
1203978628012489708290478989147
It is rather ironic how System Fix informs you about risks that it causes itself. The program wants you to purchase the full version of it, but you should know better and do NOT do it by any means. Terminate System Fix with a reliable antimalware program that will ensure your computer's security in the future, and the sooner you perform the removal, the better.

How to manually remove System Fix
Files associated with System Fix infection:
dSPEfJqNGav.exe
AnxAWyvzgmN5fQ.exe
ovLtSvlXCxH.exe
Wx7FHng4rJ4QFn.exe
RhsEkxxjfUhuhw.exe
POrAEHHCNGan.exe
lvvm.exe
java.exe
IoWwDnqsYPU.exe
gcM4SGa6XY2qLk.exe
B2C9A.exe
ABrSmUWHNf.exe
A2E36.exe
97E.exe
87B.exe
62D.exe
5EE61.exe
2492.exe
186.exe
%Temp%\smtmp\4
%Temp%\smtmp\3
%Temp%\smtmp\2
%Temp%\smtmp\1
%Temp%\smtmp\
%StartMenu%\Programs\System Fix\Uninstall System Fix.lnk
%StartMenu%\Programs\System Fix\System Fix.lnk
%StartMenu%\Programs\System Fix\
%Desktop%\System Fix.lnk
%AppData%\Microsoft\Internet Explorer\Quick Launch\System Fix.lnk
%AllUsersProfile%\[random].exe
%AllUsersProfile%\~[random]
System Fix processes to kill:
dSPEfJqNGav.exe
AnxAWyvzgmN5fQ.exe
ovLtSvlXCxH.exe
Wx7FHng4rJ4QFn.exe
RhsEkxxjfUhuhw.exe
POrAEHHCNGan.exe
lvvm.exe
java.exe
IoWwDnqsYPU.exe
gcM4SGa6XY2qLk.exe
B2C9A.exe
ABrSmUWHNf.exe
A2E36.exe
97E.exe
87B.exe
62D.exe
5EE61.exe
2492.exe
186.exe
%AllUsersProfile%\[random].exe
Remove System Fix registry entries:
HKEY_CURRENT_USER\Software\Microsoft\Internet Explorer\Download "CheckExeSignatures" = 'no'
HKEY_CURRENT_USER\Software\Microsoft\Internet Explorer\Main "Use FormSuggest" = 'Yes'
HKEY_CURRENT_USER\Software\Microsoft\Windows\CurrentVersion\Explorer\Advanced "Hidden" = '0'
HKEY_CURRENT_USER\Software\Microsoft\Windows\CurrentVersion\Explorer\Advanced "ShowSuperHidden" = '0'
HKEY_CURRENT_USER\Software\Microsoft\Windows\CurrentVersion\Internet Settings "CertificateRevocation" = '0'
HKEY_CURRENT_USER\Software\Microsoft\Windows\CurrentVersion\Internet Settings "WarnonBadCertRecving" = '0'
HKEY_CURRENT_USER\Software\Microsoft\Windows\CurrentVersion\Policies\ActiveDesktop "NoChangingWallPaper" = '1'
HKEY_CURRENT_USER\Software\Microsoft\Windows\CurrentVersion\Policies\Associations "LowRiskFileTypes" = '.zip;.rar;.nfo;.txt;.exe;.bat;.com;.cmd;.reg;.msi;.htm;.html;.gif;.bmp;.jpg;.avi;.mpg;.mpeg;.mov;.mp3;.m3u;.wav;.scr;'
HKEY_CURRENT_USER\Software\Microsoft\Windows\CurrentVersion\Policies\Attachments "SaveZoneInformation" = '1'
HKEY_CURRENT_USER\Software\Microsoft\Windows\CurrentVersion\Policies\Explorer "NoDesktop" = '1'
HKEY_CURRENT_USER\Software\Microsoft\Windows\CurrentVersion\Policies\System "DisableTaskMgr" = '1'
HKEY_CURRENT_USER\Software\Microsoft\Windows\CurrentVersion\Run "[random]"
HKEY_CURRENT_USER\Software\Microsoft\Windows\CurrentVersion\Run "[random].exe"
HKEY_LOCAL_MACHINE\SOFTWARE\Microsoft\Windows\CurrentVersion\policies\system "DisableTaskMgr" = '1'