Danger level
:

9
Type:
Rogue Anti-Spyware
Common infection symptoms:
Blocks internet connection
Block exe files from running
Installs itself without permissions
Connects to the internet without permission
Normal system programs crash immediatelly
Slow internet connection
System crashes
Annoying Pop-up's
Slow Computer
Infection Video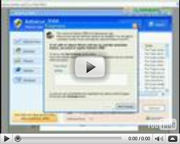 Privacy Protection
When looking for a user friendly and reliable security tool to complement your PC's security, then you will certainly want to steer well clear of Privacy Protection. This rogue antispyware application, which derives from the same family as the well-known and despised rogue Malware Protection, was not designed to offer any benefit to an infected PC, but was instead designed by unscrupulous cyber criminals to act as a vehicle with which they rob honest hardworking consumers out of their money.

Privacy Protection will enter the system surreptitiously and root itself without the user's permission. This can happen via a variety of ways, the most popular of which may be from using browser hijackers, rubbish online malware scanners and bundled security downloads obtained from third party downloads. Privacy Protection will use any combination of these and other tactics to facilitate its surreptitious infiltration of the system.
Privacy Protection will hide its presence from the user until it is ready to start its attack against the system. This will happen by Privacy Protection initiating a fake security scan and informing the user that his PC in under attack. It will do this by reporting on various fake security threats being present on the system. The rogue will then inform the user in order to protect his PC he will need to purchase a license for Privacy Protection. Shortly after the fake system scan completes the user will start receiving falsely generated security threats stating the same thing:
Security Warning
Malicious program has been detected. Click here to protect your computer.
Firewall Warning
Hidden file transfers to remote host has been detected.
has detected a leak of your files through the Internet. We strongly recommend that you block the attack immediately.
The rogue will also prevent the user from connecting to the Internet, or running applications on the infected PC. Each time the user attempts to run an application Privacy Protection will generate the following fake security message:
calc.exe can not start
File calc.exe is infected by W32/Blaster.worm. Please activate Privacy Protection to protect your computer.
This is all done in an effort to further panic the user, but also to keep him from running or downloading an application which could detect and destroy Privacy Protection.
Other symptoms associated with the Privacy Protection infection range from randomly generated desktop items and certain system folders being hidden from the user. It has also been reported that increased erratic system behavior and poor system performance derive from the Privacy Protection infection.
When all is said and done you will only be able to regain control of your PC if you destroy Privacy Protection for good. Do this by making use of a genuine and powerful security tool that will not only erase Privacy Protection but also protect your PC against similar attacks in future.

How to manually remove Privacy Protection
Files associated with Privacy Protection infection:
%appdata%\privacy.exe
Privacy Protection processes to kill:
%appdata%\privacy.exe
Remove Privacy Protection registry entries:
HKLM\Software\Microsoft\Windows\CurrentVersion\Run\Privacy Protection
Privacy Protection Suite 2.1