Danger level
:

9
Type:
Rogue Anti-Spyware
Common infection symptoms:
Block exe files from running
Installs itself without permissions
Connects to the internet without permission
Normal system programs crash immediatelly
Slow internet connection
System crashes
Annoying Pop-up's
Slow Computer
Infection Video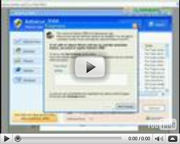 Cloud Protection
Delete Cloud Protection from your computer immediately if you notice this program acting up and sending your various fake security alert messages straight at your screen. This program is a fake antivirus application that is there to rip you off to the very last cent. It will definitely do so if you do nothing about it, at the same time damaging your system to the point of no return. That is why you need to take Cloud Protection seriously.
Cloud Protection is a direct clone of Guard Online, and it means that nothing good can come from this computer threat. These rogues come from the same nest of malware as OpenCloud Security rogueware and the Rogue.WinAVPro family.
This rogue wonders around the vast spaces of the Internet, waiting for unsuspecting users to fall into its trap and download the application without even realizing that they are downloading a very dangerous computer threat. Usually Cloud Protection hides behind flashy advertisements that screams about an iPad that you have just won or a cruise trip to the Caribbean isles. Nothing of the kind waits for you if you click on these ads. Cloud Protection will infect your computer and you will have to deal with a very annoying rogue.
The main symptoms of the infection are the endless stream of fake security notifications. Cloud Protection also blocks exe files from running, and does not allow you to load your favorite programs saying that they have been infected with serious threats, but that is, naturally, very far from truth. Cloud Protection also blocks you from opening certain websites, especially those that can be useful in getting rid of the rogue, so it can turn browsing the web into an utterly annoying experience, and that is something that you would definitely want to avoid.
As far as the fake security notifications are concerned, none of them are real, and the only thing currently infecting your computer is Cloud Protection and other files associated with this rogue. Remove Cloud Protection and its components right now. The removal will go smoother if you "register" the program or activate it. That way you will protect your money from being stolen and you will trick the program itself. Use this code to "activate" Cloud Protection:
9992665263
Once you have "registered" the program, acquire a powerful security tool that will delete Cloud Protection and safeguard your computer making sure that you will not need to experience such infection again.

How to renew your internet connection:
This rogue antispyware blocks your Internet connection to prevent you from removing the rogue application. To enable the Internet connection, please follow these instructions:
Open Internet Explorer and go to >Tools< select >Internet Options<

Select >Connections<

Select >LAN Settings<

Now you need to uncheck the checkbox labeled >Use a proxy server for your LAN< in Proxy Server section. Then press the >OK< button to close this screen and press the >OK< button to close the Internet Options screen.

Now you can download the SpyHunter scanner and remove the infection.

How to manually remove Cloud Protection
Files associated with Cloud Protection infection:
Cloud Protection.lnk
eDQmkk06sEUM5g.exe
svhostu.exe
PeOuyECqQC.exe
NRZqhYXwkVlBx0c.exe
lvvm.exe
cmhost.exe
9b88.exe
6DSS92c31Apgjk.exe
1kAlMiG2Kb7FzP.exe
%AppData%\[random]\
%AppData%\[random] Cloud Protection.ico
%AppData%\ldr.ini
%StartMenu%\Programs\Cloud Protection\
%StartMenu%\Programs\Cloud Protection\Cloud Protection.lnk
%System%\[random].exe
%UserProfile%\Desktop\Cloud Protection.lnk
Cloud Protection processes to kill:
eDQmkk06sEUM5g.exe
svhostu.exe
PeOuyECqQC.exe
NRZqhYXwkVlBx0c.exe
lvvm.exe
cmhost.exe
9b88.exe
6DSS92c31Apgjk.exe
1kAlMiG2Kb7FzP.exe
%System%\[random].exe
Remove Cloud Protection registry entries:
HKEY_LOCAL_MACHINE\SOFTWARE\Microsoft\Windows\CurrentVersion\Run "[random]"