Danger level
:

9
Type:
Rogue Anti-Spyware
Common infection symptoms:
Blocks internet connection
Block exe files from running
Installs itself without permissions
Connects to the internet without permission
Shows commercial adverts
Normal system programs crash immediatelly
Slow internet connection
System crashes
Annoying Pop-up's
Slow Computer
Guard Online
Guard Online can definitely look like a state-of-the-art antivirus program, but you should steer away from it, because it is a rogue antispyware application and nothing good can come from something that is pretending to be something it is not. Guard Online has been created by the developers of OpenCloud Security rogueware and forms par of the Rogue.WinAVPro family, to swindle unsuspecting users out of their money and you can be next if you allow this rogue to do whatever it pleases with your system.

This rogue has a wide distribution network so it can enter your system whichever way it pleases. It can arrive at your computer via spam email, fake online malware scanners, flash advertisements, social engineering and even by the use of the blackhat SEO technique. The common thing among all Guard Online infection methods is that the rogue does not need your permission or confirmation to get installed in your computer. It settles down on its own and then starts torturing you with loads of fake security messages and the fake system scan.
The fake system scan results urge you to purchase the full version of Guard Online. Were you to do so, you would provide cyber criminals with your banking information and your money would be stolen. The rogue will then start spamming the user with fake security alerts generated with the express intention of panicking him into thinking his PC is under attack. Some of these fake alerts read as follows:
Windows Security Alert
To help protect your computer, Windows Firewall has blocked some features of this program.
Do you want to keep blocking this program?
Name: Zeus Trojan
Publisher: Unauthorized
Warning! Infection found
Unauthorized sending E-MAIL with subject "RE:" to was CANCELLED.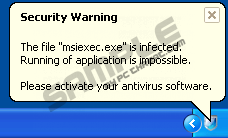 Security Warning
Your computer continues to be infected with harmful viruses. In order to prevent permanent loss of your information and credit card data theft please activate your antivirus software. Click here to enable protection.
It is important that users never believe any correspondence received from Guard Online, and to get rid of the rogue as soon as possible. Some variations of the Rogue.WinAVPro family may be bundling ZeroAccess Rootkit along with the rogue. This Rootkit will kill any process that scans one of the items it is protecting in the Windows Registry or the file system. It will then change the permissions for that application in an attempt to run it again.
Symptoms associated with the Guard Online infection range from blocked Internet connections to extremely poor system performance. Users also complained about being unable to launch applications on the infected PC. In order to stave off these annoying symptoms enter the following activation key into the rogue and all symptoms will be disabled:
9992665263
Therefore you need to remove Guard Online before this dangerous computer threat manages to get into your wallet too. Do this by investing in a properly functioning security tool which will not only erase Guard Online, but also protect the system against similar attacks in future.

How to renew your internet connection:
This rogue antispyware blocks your Internet connection to prevent you from removing the rogue application. To enable the Internet connection, please follow these instructions:
Open Internet Explorer and go to >Tools< select >Internet Options<

Select >Connections<

Select >LAN Settings<

Now you need to uncheck the checkbox labeled >Use a proxy server for your LAN< in Proxy Server section. Then press the >OK< button to close this screen and press the >OK< button to close the Internet Options screen.

Now you can download the SpyHunter scanner and remove the infection.

How to manually remove Guard Online
Files associated with Guard Online infection:
Guard Online .lnk
iYCekIBrzN.exe
DX8FB1.tmp.exe
%UserProfile%\Desktop\Guard Online.lnk
%System%\[random].exe
%StartMenu%\Programs\Guard Online\Guard Online.lnk
%StartMenu%\Programs\Guard Online\
%AppData%\ldr.ini
%AppData%\[random] Guard Online.ico
%AppData%\[random]\
Guard Online processes to kill:
iYCekIBrzN.exe
DX8FB1.tmp.exe
%System%\[random].exe
Remove Guard Online registry entries:
HKEY_LOCAL_MACHINE\SOFTWARE\Microsoft\Windows\CurrentVersion\Run "[random]"