Danger level
:

9
Type:
Rogue Anti-Spyware
Common infection symptoms:
Installs itself without permissions
System crashes
Annoying Pop-up's
Slow Computer
Infection Video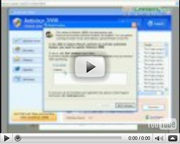 AV Guard Online
Should you be in the market for a user friendly, powerful and efficient security tool to protect your system against known and unknown threats, you will be well advised to steer clear of AV Guard Online. This seemingly legitimate and powerful security tool is not what it gives itself off to be – in fact, AV Guard Online is really a harmful and seditious rogue antispyware application designed by criminals to rip you off!
Firstly it enters your system surreptitiously and roots itself into the PC without your knowledge. It will then proceed to make your system generally unmanageable with its attacks until you are forced to pay for its worthless software. If this isn't bad enough, it will also download additional malware to your PC.
Symptoms of the AV Guard Online infection range from poor system performance to increased erratic system behavior. Users also complained about being unable to connect to the Internet, as well as randomly generating and deleting Desktop items. This is just the beginning of AV Guard Online's attack on the system, and it is sure to cause permanent damage should the user not delete AV Guard Online in time. Rather get rid of AV Guard Online by investing in the future of your PC with a genuine and powerful security tool.

How to renew your internet connection:
This rogue antispyware blocks your Internet connection to prevent you from removing the rogue application. To enable the Internet connection, please follow these instructions:
Open Internet Explorer and go to >Tools< select >Internet Options<

Select >Connections<

Select >LAN Settings<

Now you need to uncheck the checkbox labeled >Use a proxy server for your LAN< in Proxy Server section. Then press the >OK< button to close this screen and press the >OK< button to close the Internet Options screen.

Now you can download the SpyHunter scanner and remove the infection.

How to manually remove AV Guard Online
Files associated with AV Guard Online infection:
AV Guard Online.lnk
c5aQJ6dEKfZhXjV.exe
%UserProfile%\Desktop\AV Guard Online.lnk
%System%\[random].exe
%StartMenu%\Programs\AV Guard Online\AV Guard Online.lnk
%StartMenu%\Programs\AV Guard Online\
%AppData%\ldr.ini
%AppData%\[random] Guard Online.ico
%AppData%\[random]
AV Guard Online processes to kill:
c5aQJ6dEKfZhXjV.exe
%System%\[random].exe
Remove AV Guard Online registry entries:
HKEY_LOCAL_MACHINE\SOFTWARE\Microsoft\Windows\CurrentVersion\Run "[random]"