Danger level
:

9
Type:
Rogue Anti-Spyware
Common infection symptoms:
Blocks internet connection
Block exe files from running
Installs itself without permissions
Connects to the internet without permission
Normal system programs crash immediatelly
Slow internet connection
System crashes
Annoying Pop-up's
Slow Computer
Infection Video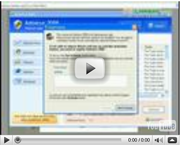 Wolfram Antivirus
It has become near to impossible to protect your PC against all the threats like Wolfram Antivirus and similar without some help. What makes Wolfram Antivirus rogue antispyware even more dangerous is the fact that it appears to be one of the good security applications – while the exact opposite is true. This rubbish rogue finds its roots in the same family of rogues as the highly despised rogue antispyware application BlueFlare Antivirus. It is a direct clone of the well-known and much hated rogue antispyware applications Milestone Antivirus, Wireshark Antivirus, Sysinternals Antivirus, XJR Antivirus, AKM Antivirus 2010 Pro and Your PC Protector.
This rogue does not break new ground with its infection tactics – established forms of infection such as bogus online malware scanners and seditious browser hijackers form part of Wolfram Antivirus' online marketing campaign. Other tactics also employed include the use of infected online flash ads, and Wolfram Antivirus bundling its Trojans and malware together with third party downloads and updates.
The user will remain largely unaware of the presence of Wolfram Antivirus on his system until the rogue is ready to proceed with its attack. This will only happen once Wolfram Antivirus is securely rooted in the system. The first line of attack will come from a falsely generated security system scan each time the user logs on to Windows. This scan will naturally generate many false results in an effort to panic the user into paying for its worthless software. Users are urged never to pay attention to any correspondence received from Wolfram Antivirus.
As a further attack against the PC and part of Wolfram Antivirus' campaign of trying to rip its victims off, the rogue will prevent users from connecting to the Internet or executing applications. This is done in an effort to further frustrate and panic the user, but also to prevent him from running or downloading an application which may be able to detect and remove Wolfram Antivirus from the system.
Users have also reported randomly generated Desktop items and hidden folder contents. Poor system performance and increased erratic system behavior have also been blamed on the Wolfram Antivirus infection.
In order to facilitate this rogue's removal, enter the following activation key into the rogue. This will disable all of Wolfram Antivirus' annoying symptoms, and help you to get rid of it for good:
DB038748-B4659586-4A1071AF-32E768CD-36005B1B-F4520642-3000BF2A-04FC910B
Do not think however that by entering the above activation key what you will be able to successfully remove Wolfram Antivirus from the system. This will only disable the annoying symptoms, and allow you to connect to the Internet again. You still need to erase Wolfram Antivirus in order to restore your PC's security.
This rogue application will rot your PC from the inside out and render the system ultimately useless. In order to prevent this, and limit the damage it will cause to the PC, destroy Wolfram Antivirus immediately. This can best and safest be achieved by making use of a powerful security tool which will offer adequate protection against similar attacks in future.

How to renew your internet connection:
This rogue antispyware blocks your Internet connection to prevent you from removing the rogue application. To enable the Internet connection, please follow these instructions:
Open Internet Explorer and go to >Tools< select >Internet Options<

Select >Connections<

Select >LAN Settings<

Now you need to uncheck the checkbox labeled >Use a proxy server for your LAN< in Proxy Server section. Then press the >OK< button to close this screen and press the >OK< button to close the Internet Options screen.

Now you can download the SpyHunter scanner and remove the infection.

How to manually remove Wolfram Antivirus
Files associated with Wolfram Antivirus infection:
Wolfram Antivirus.lnk
Wolfram Antivirus.exe
csrss.exe
%USERPROFILE%\Start Menu\Programs\Startup\csrss.exe
%AppData%\Wolfram Antivirus.ico
%AppData%\Wolfram Antivirus.exe
%AppData%\wf.conf
%AppData%\sysl32.dll
%AppData%\csrss.exe
Wolfram Antivirus processes to kill:
Wolfram Antivirus.exe
csrss.exe
%USERPROFILE%\Start Menu\Programs\Startup\csrss.exe
%AppData%\Wolfram Antivirus.exe
%AppData%\csrss.exe
Remove Wolfram Antivirus registry entries:
HKCU\Software\Microsoft\Windows\CurrentVersion\Internet Settings "ProxyServer" = 127.0.0.1
HKLM\SOFTWARE\Microsoft\Windows NT\CurrentVersion\Image File Execution Options "Debugger" = "svchost.exe"