Danger level
:

9
Type:
Rogue Anti-Spyware
Common infection symptoms:
Block exe files from running
Installs itself without permissions
Connects to the internet without permission
Slow internet connection
System crashes
Annoying Pop-up's
Slow Computer
Other mutations known as:
Total Protect – Professional Antivirus Solution
Infection Video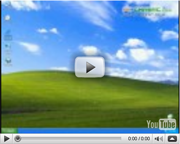 Total Protect
Total Protect is yet another rogue antispyware application which has been designed to rip easy financial gain by tricking unsuspecting computer users worldwide. The rogue proclaims itself to be Total Protect – Professional Antivirus Solution, but there is nothing antivirus-like about it, and the only field it is professional in, is deceiving computer users and stealing their money.
Rogues like Total Protect are usually distributed via fake online malware scanners or spam email. In case of fake online scanners, there are certain sites that host them without even realizing that they are part of the rogue distribution system. For example, there might be a bleeping tab in a media hosting website, which urges you to perform a mini scan, saying there has been a suspicious activity detected in your computer. When a user clicks on any of these tabs, he initiates the download of Total Protect and then it is only a matter of time until the rogue is installed in the target computer.
Once Total Protect is installed, it will prompt you to run a full system scan, saying that "You haven't run a scan on your computer for a while. This could put your computer at risk." It tells then that your real-time protection is off and you nee to activate it immediately if you want to avoid being plagued by multiple threats. Overall, Total Protect looks very much like a legitimate antivirus and it would be hard to say there is something out of the ordinary with this program, judging just by its interface.
Total Protect blocks your internet connection say that your browser contains malicious software and it needs to be closed. The rogue does that in order to remain in your computer for a longer period of time. It says that the key features and benefits of using Total Protect is real-time protection against viruses and spyware, scanning of websites and emails for malicious code, and protection for your digital identity at all times. It even tries to make you think that you are infected showing you these types of security alerts:
Virus Detected!
This file or webpage contains malicious software.
File or Webpage:
C:\\Windows\system32\SearchProtoclHost.exe
Virus:
Scareware:Win32/FakeAV
Apply to all objects
However, keep in mind that Total Protect will NEVER protect you. Worse, it will make you think that your computer is damaged by blocking your access to certain programs. The rogue will tell you that these programs are not accessible, because they are infected and they need to be blocked for your safety. That is a blatant lie. Total Protect only wants you to purchase its license for 75 USD so that the criminals behind would get your credit card information. With that they would be able to access your bank account and steal the remaining amount of your money.
Do not let this happen. Remove Total Protect by using a good antispyware program if you do no know how to do it manually. Delete the rogue and all its components from your computer and safeguard it against other possible malware attacks.

How to manually remove Total Protect
Files associated with Total Protect infection:
TotalProtect2009_start_setup.exe
totalprotect2009_setup[1].exe, uninstall.exe
TotalProtect2009.exe
Total Protect processes to kill:
TotalProtect2009_start_setup.exe
totalprotect2009_setup[1].exe, uninstall.exe
TotalProtect2009.exe
Remove Total Protect registry entries:
Total Protect 2009