Danger level
:

9
Type:
Rogue Anti-Spyware
Common infection symptoms:
Blocks internet connection
Block exe files from running
Installs itself without permissions
Changes background
Connects to the internet without permission
Shows commercial adverts
Normal system programs crash immediatelly
Slow internet connection
System crashes
Annoying Pop-up's
Slow Computer
Other mutations known as:
ZentomSystemGuard
Infection Video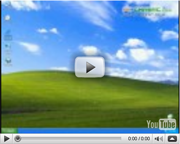 Zentom System Guard
Many PC owners continue to fall for the clever lies spread by Zentom System Guard and similar harmful rogue antispyware applications because of its seemingly innocuous and user friendly appeal. This rogue antispyware tool does in reality offer no benefits to an infected PC and actually forms part of the much despised fake Microsoft Security Essentials scam. It also finds its roots in the same despicable family of rogues as equally destructive applications Windows Troubles Solver and Windows Inspection Utility, among many others.
Zentom System Guard will of course do everything in its power to gain the trust of its intended victims, only to exploit that trust by fleecing its victims out of their hard earned money. Despite what it would like its victims to believe, Zentom System Guard simply has no ability to identify or remove any type of threat from the system. The rogue will enter the system through any means possible, be it with the help of seditious browser hijackers or misleading fake online malware scanners, among other tactics. Once it manages to root itself in the system it will edit Windows registry entries so as to allow itself to launch each time the user logs on to Windows.
This will initiate a fake system scan which will yield bogus scan results. These fake scans are designed simply to panic users by inventing fake results, so as to convince the user to pay for Zentom System Guard's fake software. Other symptoms arising from a Zentom System Guard infection include being unable to launch applications on the infected PC, as well as blocked Internet connections. This is done in an effort to prevent the user from running or downloading any type of application which may be able to get rid of Zentom System Guard. It will also spam the user with incessant fake security alerts in the form of pop up messages, the most popular reading as follows:
System Security Warning
Attempt to modify register key entries is detected. Register entries analysis is recommended.
Warning!
Location: c:\windows\system32\taskmgr.exe
Viruses: Backdoor.Win32.Rbot
When all is said and done you will only be able to regain full control of your PC once you destroy Zentom System Guard. The safest and most effective way to go about doing this remains investing in a properly functioning security tool which will not only obliterate Zentom System Guard but also protect against similar attacks in future.

How to manually remove Zentom System Guard
Files associated with Zentom System Guard infection:
Zentom System Guard.lnk
vcc70dep2r.exe
hookdll.dll
%TEMP%\WER15.tmp
%TEMP%\FY11.tmp
%TEMP%\2B88A7.dmp
%TEMP%\2A9473.dmp
%TEMP%\WER13.tmp
%TEMP%\2AD39F.dmp
%APPDATA%\205BA7C8FC5F7E32A2A4797AFBB34F61\hookdll.dll
%APPDATA%\Adobe\plugs\KB2692265.exe
%APPDATA%\Microsoft\Internet Explorer\Quick Launch\Zentom System Guard.lnk
%TEMP%\2A8F24.dmp
%TEMP%\44d18f1b51a1182dac79e4320ec31538310a8c5f
%TEMP%\WER14.tmp
%TEMP%\WER13.tmp.dir00\appcompat.txt
%TEMP%\WER14.tmp.dir00\appcompat.txt
%TEMP%\WER15.tmp.dir00\appcompat.txt
%TEMP%\2AE6AA.dmp
%TEMP%\WER16.tmp.dir00\appcompat.txt
%USERPROFILE%\Start Menu\Programs\Zentom System Guard\Zentom System Guard.lnk
%USERPROFILE%\Start Menu\Programs\Startup\Zentom System Guard.lnk
%USERPROFILE%\Start Menu\Programs\Zentom System Guard\Uninstall.lnk
%USERPROFILE%\Start Menu\Zentom System Guard.lnk
%AppData%\[random]
%APPDATA%\Adobe\plugs\KB2721125.exe
%AppData%\[random]\[random].exe
Zentom System Guard DLL's to remove:
hookdll.dll
Zentom System Guard processes to kill:
vcc70dep2r.exe
%AppData%\[random].exe
Remove Zentom System Guard registry entries:
HKEY_CURRENT_USER\SOFTWARE\MICROSOFT\WINDOWS\CURRENTVERSION\UNINSTALL\
HKEY_CURRENT_USER\SOFTWARE\MICROSOFT\WINDOWS\CURRENTVERSION\UNINSTALL\ZENTOM SYSTEM GUARD\
HKEY_CURRENT_USER\SOFTWARE\ZENTOMSYSTEMGUARD\
KEY_CURRENT_USER\SOFTWARE\ZENTOMSYSTEMGUARD\ZENTOM SYSTEM GUARD\
Zentom System Guard
ZentomSystemGuard