Danger level
:

9
Type:
Rogue Anti-Spyware
Common infection symptoms:
Blocks internet connection
Block exe files from running
Installs itself without permissions
Connects to the internet without permission
Slow internet connection
System crashes
Annoying Pop-up's
Slow Computer
Other mutations known as:
BlueFlareAnti-Virus
Infection Video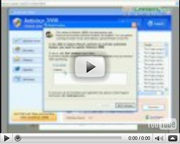 BlueFlare Anti-Virus
With the advent of more and more sophisticated rogue security tools it has become that much more difficult for users to distinguish between genuine security applications and rubbish rogue tools like BlueFlair Anti-Virus. This rogue in particular is a destructive and harmful application designed to only rip consumers off and not offering anything of value in return. This rogue targets PCs running Microsoft's most popular operating systems such as Windows 7, Vista and XP. What is more, this rubbish rogue forms part of the highly despised fake Microsoft Security Essentials scam, and derives from the same despicable family of rogues as Windows Necessary Firewall and Windows Custom Settings.
This rogue will enter your system through various nefarious means, and will use any tactic at its disposal to facilitate its surreptitious infiltration. BlueFlair Anti-Virus's most popular form of infection is seditious browser hijackers and rubbish online malware scanners. Of late it has also been reported that BlueFlair Anti-Virus makes use of infected online flash ads as part of its online marketing campaign.
Once the rogue securely roots itself in the system it will edit registry entries so as to allow itself to launch each time the user logs on to Windows. It will then initiate a fake system scan which will inform the user that his system is under attack. These scans and its results are completely fictitious and should receive no attention.
As a further attack BlueFlair Anti-Virus will spam the user with persistent fake security threats aimed at panicking the user into paying for its worthless software. Some of the more popular fake alerts to be on the lookout for include the following:
System Security Warning
Attempt to modify register key entries is detected. Register entries analysis is recommended.
Warning!
Location: c:\windows\system32\taskmgr.exe
Viruses: Backdoor.Win32.Rbot
Other symptoms associated with the BlueFlair Anti-Virus infection include being unable to connect to the Internet, as well as not being able to execute and applications on the infected PC. Increased erratic system behavior and poor system performance have also been reported by its victims.
Being infected with this rogue does not mean you have to throw away your PC. Thanks to powerful security tools there are effective and permanent ways to get rid of BlueFlair Anti-Virus and restore your PC's security.

How to renew your internet connection:
This rogue antispyware blocks your Internet connection to prevent you from removing the rogue application. To enable the Internet connection, please follow these instructions:
Open Internet Explorer and go to >Tools< select >Internet Options<

Select >Connections<

Select >LAN Settings<

Now you need to uncheck the checkbox labeled >Use a proxy server for your LAN< in Proxy Server section. Then press the >OK< button to close this screen and press the >OK< button to close the Internet Options screen.

Now you can download the SpyHunter scanner and remove the infection.

How to manually remove BlueFlare Anti-Virus
Files associated with BlueFlare Anti-Virus infection:
%AppData%\BlueFlare Anti-Virus\Instructions.ini
%AppData%\BlueFlare Anti-Virus\cookies.sqlite
%AppData%\BlueFlare Anti-Virus
%ALLUSERSPROFILE%\Application Data\[random]\[random].exe
%ALLUSERSPROFILE%\Application Data\[random]
BlueFlare Anti-Virus processes to kill:
%ALLUSERSPROFILE%\Application Data\[random]\[random].exe
Remove BlueFlare Anti-Virus registry entries:
HKCU\Software\Microsoft\Windows\CurrentVersion\Internet Settings "ProxyServer" = 127.0.0.1
HKLM\SOFTWARE\Microsoft\Windows NT\CurrentVersion\Image File Execution Options "Debugger" = "svchost.exe"