Danger level
:

9
Type:
Rogue Anti-Spyware
Common infection symptoms:
Installs itself without permissions
Connects to the internet without permission
Shows commercial adverts
Normal system programs crash immediatelly
System crashes
Annoying Pop-up's
Infection Video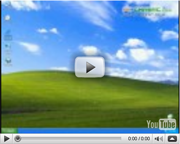 Windows Vista Fix
It would seem as though developers of rogue applications are becoming more and more sophisticated in their approach to developing rogue security and system tools, as Windows Vista Fix is a perfect example of. This sophisticated rogue defragmenter finds its roots in a family of rogues capable of changing its names to adapt to its environments. This means that depending on which operating system the user is running, Windows Vista Fix will change its name to Windows 7 Fix or Windows XP Fix, but it is all the exact same rogue. Its only purpose is to fleece honest consumers out of their money, while leaving them with nothing more than an empty, worthless shell unable to optimize their PC or offer any benefit whatsoever.
Windows Vista Fix will enter the system surreptitiously, and hide itself from the user's attentions until such time that it is ready to start its attack against the PC. This will usually happen by Windows Vista Fix initiating a fake system scan which will yield false positives of sever errors supposedly crippling the PC. The rogue professes to scan the PC hard drives and RAM memory, and will continually encourage the user to buy Windows Vista Fix in order to fix these errors.

This is only the first part of Windows Vista Fix's attack against the system however, as it will initiate various other annoying and alarming symptoms in its campaign to extort money out of the user. It will block the user's access to the Internet, and prevent him from executing any applications on the PC. Windows Vista Fix will also be the cause of severely poor system performance, and will generate random Desktop items and hide folder contents from the user. The user will also be spammed by incessant pop ups, all falsely generated error and system messages. Some of the more popular pop ups read as follows:
Hard Drive Failure
The system has detected a problem with one or more installed IDE / SATA hard disks. It is recommended that you restart the system.
System Error
An error occurred while reading system files. Run a system diagnostic utility to check your hard disk drive for errors.
Critical Error
Hard drive critical error. Run a system diagnostic utility to check your hard disk drive for errors. Windows can't find hard disk space. Hard drive error.
Critical Error!
Damaged hard drive clusters detected. Private data is at risk.
Critical Error
Hard Drive not found. Missing hard drive.
Critical Error
RAM memory usage is critically high. RAM memory failure.
Critical Error
Windows can't find hard disk space. Hard drive error
By reading some of the above fake pop up messages, the user will clearly be able to see the nonsensical logic behind Windows Vista Fix and be able to identify it as the rubbish rogue that it is. Some of the fake alerts will inform the user that the hard drive is missing, but that could not be possible otherwise Windows would be unable to run.
The only way you will be able to regain complete control of your PC and to protect it against further devastation at the hands of this rogue will be to kill Windows Vista Fix immediately. Use a genuine security tool to permanently destroy Windows Vista Fix and also protect your system against similar future attacks.

How to manually remove Windows Vista Fix
Files associated with Windows Vista Fix infection:
%StartMenu%\Programs\Windows Vista Fix\Windows Vista Fix.lnk
%StartMenu%\Programs\Windows Vista Fix\Uninstall Windows Vista Fix.lnk
%StartMenu%\Programs\Windows Vista Fix\
%AllUsersProfile%\~[random]
%AllUsersProfile%\[random].exe
%AllUsersProfile%\[random]
Windows Vista Fix processes to kill:
%AllUsersProfile%\[random].exe
Remove Windows Vista Fix registry entries:
HKEY_CURRENT_USER\Software\Microsoft\Internet Explorer\Download "CheckExeSignatures" = 'no'
HKEY_CURRENT_USER\Software\Microsoft\Internet Explorer\Main "Use FormSuggest" = 'yes'
HKEY_CURRENT_USER\Software\Microsoft\Windows\CurrentVersion\Explorer\Advanced "Hidden" = '0'
HKEY_CURRENT_USER\Software\Microsoft\Windows\CurrentVersion\Explorer\Advanced "ShowSuperHidden" = 0'
HKEY_CURRENT_USER\Software\Microsoft\Windows\CurrentVersion\Internet Settings "CertificateRevocation" = '0'
HKEY_CURRENT_USER\Software\Microsoft\Windows\CurrentVersion\Internet Settings "WarnonBadCertRecving" = '0'
HKEY_CURRENT_USER\Software\Microsoft\Windows\CurrentVersion\Policies\ActiveDesktop "NoChangingWallPaper" = '1'
HKEY_CURRENT_USER\Software\Microsoft\Windows\CurrentVersion\Policies\Associations "LowRiskFileTypes" = '/{hq:/s`s:/ogn:/uyu:/dyd:/c`u:/bnl:/ble:/sdf:/lrh:/iul:/iulm:/fhg:/clq:/kqf:/`wh:/lqf:/lqdf:/lnw:/lq2:/l2t:/v`w:/rbs:'
HKEY_CURRENT_USER\Software\Microsoft\Windows\CurrentVersion\Policies\Attachments "SaveZoneInformation" = '1'
HKEY_CURRENT_USER\Software\Microsoft\Windows\CurrentVersion\Policies\System "DisableTaskMgr" = '1'
HKEY_CURRENT_USER\Software\Microsoft\Windows\CurrentVersion\Run "[random]"
HKEY_CURRENT_USER\Software\Microsoft\Windows\CurrentVersion\Run "[random].exe"
HKEY_LOCAL_MACHINE\SOFTWARE\Microsoft\Windows\CurrentVersion\policies\system "DisableTaskMgr" = '1'