Danger level
:

9
Type:
Rogue Anti-Spyware
Common infection symptoms:
Installs itself without permissions
Connects to the internet without permission
Shows commercial adverts
Normal system programs crash immediatelly
System crashes
Annoying Pop-up's
Slow Computer
Infection Video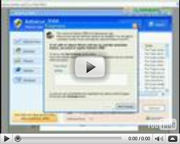 Windows 7 Fix
There are certainly many threats facing healthy PCs today, and you will find it increasingly difficult to protect your system from harmful threats such as Windows 7 Fix without some help. This rogue defragmenter was designed with the explicit intention of tricking consumers out of their money through various nefarious tactics. It claims to be able to detect and fix hard drive errors, but really its only intention is to scam users into paying for its worthless software.
As with other rogue security tools, Windows 7 Fix enters the system surreptitiously and will not reveal its presence on the system until it is ready to start its attack. It will use any avenue possible to facilitate its infiltration of the victim's system, including using bogus online malware scanners and infected online flash ads, and by bundling its Trojans and malware together with other third party downloads.

Once Windows 7 Fix manages to securely root itself in the system, it will edit registry entries so as to allow itself to launch each time the user logs on to Windows. It will then launch an unwarranted fake system scan, which will inevitably yield false results. Windows 7 Fix claims to check the following system performance:
Computer hard drives
RAM Memory
Memory Optimization Service and
System Health
In reality Windows 7 Fix only emulates the real working of a genuine PC defragmenter, and has no ability to live up to any of its promises. It will also instigate various other disturbing symptoms as part of its attack against the system. These vary from incessant pop up messages acting as false alerts and increased erratic system behavior. Some of the more popular fake alerts used by Windows 7 Fix to be on the lookout for reads as follows:
Hard Drive Failure
The system has detected a problem with one or more installed IDE / SATA hard disks. It is recommended that you restart the system.
System Error
An error occurred while reading system files. Run a system diagnostic utility to check your hard disk drive for errors.
Critical Error
Hard drive critical error. Run a system diagnostic utility to check your hard disk drive for errors. Windows can't find hard disk space. Hard drive error.
Windows 7 Fix will also generate random Desktop items and other files on the system, and hide the contents of folders from the user. It will not allow the user to launch any applications on the infected PC and will prevent him from connecting to the Internet. This all forms part of Windows 7 Fix's attack on the system.
If you suspect infection use a powerful and properly updated security tool to erase Windows 7 Fix from the system for good. This remains one of the safest and most effective ways to get rid of Windows 7 Fix and similar threats, and will also protect your PC against similar attacks in future.

How to manually remove Windows 7 Fix
Files associated with Windows 7 Fix infection:
%StartMenu%\Programs\Windows 7 Fix\Windows 7 Fix.lnk
%StartMenu%\Programs\Windows 7 Fix\Uninstall Windows 7 Fix.lnk
%StartMenu%\Programs\Windows 7 Fix\
%AllUsersProfile%\~[random]
%AllUsersProfile%\[random].exe
%AllUsersProfile%\[random]
Windows 7 Fix processes to kill:
%AllUsersProfile%\[random].exe
Remove Windows 7 Fix registry entries:
HKEY_CURRENT_USER\Software\Microsoft\Internet Explorer\Download "CheckExeSignatures" = 'no'
HKEY_CURRENT_USER\Software\Microsoft\Internet Explorer\Main "Use FormSuggest" = 'yes'
HKEY_CURRENT_USER\Software\Microsoft\Windows\CurrentVersion\Explorer\Advanced "Hidden" = '0'
HKEY_CURRENT_USER\Software\Microsoft\Windows\CurrentVersion\Explorer\Advanced "ShowSuperHidden" = 0'
HKEY_CURRENT_USER\Software\Microsoft\Windows\CurrentVersion\Internet Settings "CertificateRevocation" = '0'
HKEY_CURRENT_USER\Software\Microsoft\Windows\CurrentVersion\Internet Settings "WarnonBadCertRecving" = '0'
HKEY_CURRENT_USER\Software\Microsoft\Windows\CurrentVersion\Policies\ActiveDesktop "NoChangingWallPaper" = '1'
HKEY_CURRENT_USER\Software\Microsoft\Windows\CurrentVersion\Policies\Associations "LowRiskFileTypes" = '/{hq:/s`s:/ogn:/uyu:/dyd:/c`u:/bnl:/ble:/sdf:/lrh:/iul:/iulm:/fhg:/clq:/kqf:/`wh:/lqf:/lqdf:/lnw:/lq2:/l2t:/v`w:/rbs:'
HKEY_CURRENT_USER\Software\Microsoft\Windows\CurrentVersion\Policies\Attachments "SaveZoneInformation" = '1'
HKEY_CURRENT_USER\Software\Microsoft\Windows\CurrentVersion\Policies\System "DisableTaskMgr" = '1'
HKEY_CURRENT_USER\Software\Microsoft\Windows\CurrentVersion\Run "[random]"
HKEY_CURRENT_USER\Software\Microsoft\Windows\CurrentVersion\Run "[random].exe"
HKEY_LOCAL_MACHINE\SOFTWARE\Microsoft\Windows\CurrentVersion\policies\system "DisableTaskMgr" = '1'