Danger level
:

9
Type:
Rogue Anti-Spyware
Common infection symptoms:
Installs itself without permissions
Changes background
Connects to the internet without permission
Slow internet connection
Slow Computer
Other mutations known as:
WindowsVistaRestore
Infection Video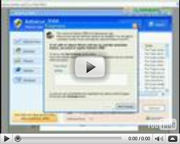 Windows Vista Restore
A lot has been written about plagiarizing fake security tools using Windows' name and icons in their graphical user interfaces to resemble an affiliation with Microsoft products, but Windows Vista Restore rogue antispyware combines this with a dangerous level of sophistication. With the usual level of threat to the PC's security and privacy, the developers behind Windows Vista Restore have instilled in it the ability to adapt its name and properties to fit into the environment of its victims' PCs. This means that should the user be running Windows 7 or XP, the rogue will change his name accordingly.
Although Windows Vista Restore can change its name to suit the OS of its victim, it is one and the same rogue. It will use established forms of infection to forcefully infiltrate and root its infection in the PC, and will not relent until it succeeds in ripping the consumer off. These tactics may include making use of infected online flash ads, bogus online malware scanners and hacked browser hijacking websites. Whichever route of infection is used, the user will remain unaware of the rogue's presence until it decides to reveal itself by starting its attack against the system.
This will happen by Windows Vista Restore editing registry entries so as to allow itself to launch each time the user logs on to Windows. It will then initiate a fake system scan which will yield false positives of severe threats being present on the system. Of course this should not even be taken seriously, and viewed only as part of the rogue's attack on the system.
Other symptoms to be on the lookout for with Windows Vista Restore are its ability to prevent the user from establishing an Internet connection. It will also prevent the user from running any type of application on the infected system, and will launch instead when the user attempts to run any other program. This is done with the explicit intention of preventing the user from running or downloading any application which may be able to get rid of Windows Vista Restore. It will also spam the user with various fake security alerts, stating that his PC is infected.
Users are urgently warned never to trust any correspondence received from Windows Vista Restore. This application is malicious and will never live up to any of its promises. In order to restore your system's security, get rid of Windows Vista Restore immediately. This is best and safest achieved by making use of properly functioning security application.

How to manually remove Windows Vista Restore
Files associated with Windows Vista Restore infection:
%Programs%\Windows Vista Restore\Windows Vista Restore.lnk
%Programs%\Windows Vista Restore
%Desktop%\Windows Vista Restore.lnk
%Temp%\dfrgr
%Temp%\dfrg
%Temp%\[random].exe
%Temp%\[random]
Windows Vista Restore processes to kill:
%Temp%\[random].exe
Remove Windows Vista Restore registry entries:
HKCU\Software\Microsoft\Windows\CurrentVersion\Run "[random].exe"
HKCU\Software\Microsoft\Windows\CurrentVersion\Run "[random]"