Danger level
:

9
Type:
Rogue Anti-Spyware
Common infection symptoms:
Installs itself without permissions
Connects to the internet without permission
Slow internet connection
Annoying Pop-up's
Slow Computer
Other mutations known as:
WindowsXPRestore
Infection Video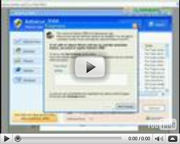 Windows XP Restore
Even expert users will find it difficult to identify Windows XP Restore as the rubbish rogue antispyware application that it is. This is because Windows XP Restore's convincing looking GUIs and its misconceiving name will be enough to fool most users into thinking it is a genuine security tool. Windows XP Restore emanates from the same family of rogues as Windows XP Recovery and Windows 7 Recovery, and will not relent until it succeeds in ripping its victim off.
This rubbish rogue enters the system through devious tactics, which includes using seditious browser hijackers and fake online malware scanners. Of late it has also been reported that Windows XP Restore makes use of infected online flash ads to root its infection into unsuspecting PCs.
Windows XP Restore is known for hiding Desktop icons and programs in the start menu. It will also initiate fake system scans which will report on various fake threats supposedly crippling the system. These falsely reported threats are actually harmless files that Windows XP Restore dropped into the system once it was installed. It will also report on genuine Microsoft files that if deleted will cause the system severe malfunction.
The only way you will be able to regain control of your PC and take back what is rightfully yours is if you destroy Windows XP Restore without further hesitation. This can safest be achieved by making use of a properly functioning security tool which will not only erase Windows XP Restore but also protect against similar harmful attacks in future.

How to manually remove Windows XP Restore
Files associated with Windows XP Restore infection:
%Programs%\Windows XP Restore\Windows XP Restore.lnk
%Programs%\Windows XP Restore
%Desktop%\Windows XP Restore.lnk
%Temp%\dfrgr
%Temp%\dfrg
%Temp%\[random].exe
%Temp%\[random]
Windows XP Restore processes to kill:
%Temp%\[random].exe
Remove Windows XP Restore registry entries:
HKCU\Software\Microsoft\Windows\CurrentVersion\Run "[random].exe"
HKCU\Software\Microsoft\Windows\CurrentVersion\Run "[random]"