Danger level
:

8
Type:
Rogue Anti-Spyware
Common infection symptoms:
Installs itself without permissions
Connects to the internet without permission
Slow internet connection
Annoying Pop-up's
Slow Computer
Other mutations known as:
Win 7 Anti-Spyware
Infection Video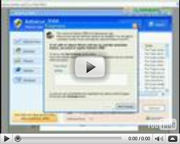 Win 7 Anti-Spyware 2012
Although it may come across as a powerful and legitimate security tool, do not fall for the vicious lies of Win 7 Anti-Spyware 2012. This rogue antispyware application is unable to live up any of its rubbish promises, and was not designed to protect a PC against any type of threat or infection. In fact, Win 7 Anti-Spyware 2012 is nothing more than a vicious infection in itself. The rogue will enter the system surreptitiously and will remain hidden from the user's attentions until it is ready to start its attack.
Win 7 Anti-Spyware 2012 makes use of various established forms of infection. It bundles its Trojans and malware together with other legitimate security updates and downloads obtained from third party websites. It also uses infected flash online ads and bogus online malware scanners as part of its online marketing campaign.
Once rooted securely in the system, Win 7 Anti-Spyware 2012 will spam the user with fake system scans, bogus secure alerts and various annoying ads. It will not allow the user to access certain system folders, and will hide the contents of various folders. The user will also find it difficult to connect to the Internet.
The only way to limit the damage this rogue will cause to the system is to get rid of Win 7 Anti-Spyware 2012 immediately. This can easily be achieved by making use of a powerful security tool.
Update:
The rogue removal will be easier if you used these activation codes to "register" the rogue:
2233-298080-3424
3425-814615-3990
9443-077673-5028
This rogue is particularly annoying because right after the installation it blocks every single exe file and you can no longer run your computer. Then there is nothing else left to but to restart your computer. When you do, while it boots press F8 and select to load the Safe Mode with Networking, so that you could download SpyHunter from our website. Then restart again, and load your computer in Normal mode to install SpyHunter. Another way to install the program is to download it on another computer, rename the installer file from installer.exe to installer.com and then transfer the file into a USB flash drive. Plug the drive into the infected computer and use it to install the program.
Once SpyHunter is installed, it will scan your computer and detect the rogue, and kill it.
NOTE: Just because you can no longer see the rogue it does not mean that it doesn't exist. Perform a full system scan to locate and terminate all of its components, because any file associated with the rogue can leave your computer's door open for other malware.

How to manually remove Win 7 Anti-Spyware 2012
Files associated with Win 7 Anti-Spyware 2012 infection:
%Temp%\[random]
%AppData%\Roaming\Microsoft\Windows\Templates\[random]
%AppData%\Local\[random]
%AppData%\Local\[random].exe
%AllUsersProfile%\[random]
Win 7 Anti-Spyware 2012 processes to kill:
%AppData%\Local\[random].exe
Remove Win 7 Anti-Spyware 2012 registry entries:
HKEY_CLASSES_ROOT\.exe\shell\open\command "(Default)" = '"%Documents and Settings%\[UserName]\Local Settings\Application Data\[random].exe" -a "%1″ %*'
HKEY_CURRENT_USER\Software\Classes\.exe\shell\open\command "(Default)" = '"%Documents and Settings%\[UserName]\Local Settings\Application Data\[random].exe" -a "%1″ %*'
HKEY_CURRENT_USER\Software\Classes\exefile\shell\open\command "(Default)" = '"%Documents and Settings%\[UserName]\Local Settings\Application Data\[random].exe" -a "%1″ %*'
HKEY_LOCAL_MACHINE\SOFTWARE\Clients\StartMenuInternet\FIREFOX.EXE\shell\open\command "(Default)" = '"%Documents and Settings%\[UserName]\Local Settings\Application Data\[random].exe" -a "%Program Files%\Mozilla Firefox\firefox.exe"'
HKEY_LOCAL_MACHINE\SOFTWARE\Clients\StartMenuInternet\FIREFOX.EXE\shell\safemode\command "(Default)" = '"%Documents and Settings%\[UserName]\Local Settings\Application Data\[random].exe" -a "%Program Files%\Mozilla Firefox\firefox.exe" -safe-mode'
HKEY_LOCAL_MACHINE\SOFTWARE\Clients\StartMenuInternet\IEXPLORE.EXE\shell\open\command "(Default)" = '"%Documents and Settings%\[UserName]\Local Settings\Application Data\[random].exee" -a "%Program Files%\Internet Explorer\iexplore.exe"'
HKEY_LOCAL_MACHINE\SOFTWARE\Microsoft\Security Center "AntiVirusOverride" = '1′
HKEY_LOCAL_MACHINE\SOFTWARE\Microsoft\Security Center "FirewallOverride" = '1′
HKEY_USERS\.DEFAULT\Software\Microsoft\Internet Explorer\BrowserEmulation "TLDUpdates" = '1′