Danger level
:

9
Type:
Rogue Anti-Spyware
Common infection symptoms:
Block exe files from running
Installs itself without permissions
Slow internet connection
Annoying Pop-up's
Slow Computer
Other mutations known as:
SecurityEssentialsUltimatePack
Infection Video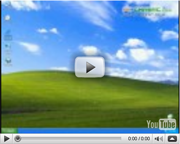 Security Essentials Ultimate Pack
Security Essential 2011 now has a clone called Security Essentials Ultimate Pack. It is a rogue antispyware application which pretends to be a legitimate security program. This rogue tends to be installed in computers, after the user is assaulted by a lot of popping messages about the necessary Flash update, even though there is no need for one. When the user thinks that he has downloaded an update which is used to watch various videos, it is in fact Security Essentials Ultimate Pack's installation file.

When this rogue is fully installed, it performs a fake system scan and then claims that there are 25 infected objects in the system, and that the computer is running on an insecure state, which several detected vulnerabilities. However, it important to keep in mind that all these detections are fake, so you should not attempt to delete the files from the detection list. Security Essentials Ultimate Pack might be saying that you have been infected with Trojans, Adware, Worms and other malware, but everything is done in order to scare into paying for the license of Security Essentials Ultimate Pack. Not to mention that you are urged to Unlock Full Version by the orange notice at the left bottom corner of the interface, which says the program you are using now is only a Trial Version, and you are only easy one-click registration away from the solution to all of your problems.
Security Essential Ultimate Pack is known to block .exe files from running. When you try to open a particular program and it is not allowed to do so, you will notice this kind of message:
Windows recommends to activate Security Essentials Ultimate Pack software.
A problem has been detected and the application has been shut down to prevent damage to your computer. Running of is impossible due to the activity. Perform the full system scan without delay to solve the issue.
Click "Yes, activate..." to register your copy of Security Essentials Ultimate Pack and perform a threat removal on your system.
Needless to say that this notification is as fake as all the other security alerts received from Security Essentials Ultimate Pack, including:
Security Alert!
Your computer is being attacked from a remote machine !
Block Internet access to your computer to prevent system infection.
Critical Warning!
Critical System Warning! Your system is probably infected with a version of Trojan-Spy.HTML.Visafraud.a. This may result in website access passwords being stolen from Interner Explorer, Mozilla Firefox, Outlook etc. Click Yes to scan and remove threats. (recommended)
System warning!
Continue working in unprotected mode is very dangerous. Viruses can damage your confidential data and work on your computer. Click here to protect your computer.
System warning!
Security Essentials Ultimate Pack software detects programs that may compromise your privacy and harm your systems. It is highly recommended you scan your PC right now. Click here to start.
Even though the rogue tries its best to make you purchase the license you should stay strong and don't give away your credit card information to the third parties, because it might cause destructive consequences - you might find your bank account empty before you even know it.
That is why you need to remove Security Essentials Ultimate Pack before it managed to cause any more damage to your computer. Acquire a good antimalware detector to get rid of the rogue automatically if you cannot terminate the program manually. Whatever you do, make sure that Security Essentials Ultimate Pack disappears from your system for good.

How to manually remove Security Essentials Ultimate Pack
Files associated with Security Essentials Ultimate Pack infection:
Security Essentials Ultimate Pack.lnk
SecEls.exe
%AllUsersProfile%\Application Data\Security Essentials Ultimate Pack\SecEls.exe
Files associated with Security Essentials Ultimate Pack infection (Win7, Vista):
HKEY_CURRENT_USER\Software\Microsoft\Windows NT\CurrentVersion\Winlogon "Shell" = "%AllUsersProfile%\Security Essentials Ultimate Pack\SecEls.exe" /hi
HKEY_CURRENT_USER\Software\Microsoft\Windows\CurrentVersion\Run "updatesst"
HKEY_CLASSES_ROOT\SecEls.DocHostUIHandler
HKEY_CLASSES_ROOT\CLSID\{3F2BBC05-40DF-11D2-9455-00104BC936FF}
HKEY_CURRENT_USER\Software\SE2010
Registry:
%AllUsersProfile%\Security Essentials Ultimate Pack\SecEls.exe
Security Essentials Ultimate Pack processes to kill:
SecEls.exe
Remove Security Essentials Ultimate Pack registry entries:
HKEY_CLASSES_ROOT\CLSID\{3F2BBC05-40DF-11D2-9455-00104BC936FF}
HKEY_CLASSES_ROOT\SecEls.DocHostUIHandler
HKEY_CURRENT_USER\Software\Microsoft\Windows NT\CurrentVersion\Winlogon "Shell" = "%AllUsersProfile%\Application Data\Security Essentials Ultimate Pac
HKEY_CURRENT_USER\Software\Microsoft\Windows\CurrentVersion\Run "updatesst"
HKEY_CURRENT_USER\Software\SE2010
SecEls.DocHostUIHandler
Security Essentials Ultimate Pack.DocHostUIHandler