Danger level
:

9
Type:
Rogue Anti-Spyware
Common infection symptoms:
Block exe files from running
Installs itself without permissions
Connects to the internet without permission
Slow internet connection
Annoying Pop-up's
Slow Computer
Infection Video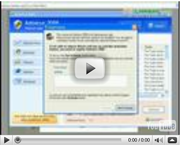 Windows Restore
Never believe anything Windows Restore has to say. This rogue antispyware application will try every trick in the book to try and convince you of its legitimacy, but the truth is it is unable to live up to any of its overinflated promises, and will be the cause of much more severe harm than anything else. As a rogue antispyware Windows Restore pretends to be a real security program, and it even uses an interface similar to that of popular safeguard applications. Everything is done so in order to make it look like the rogue is able to take care of all of your problems. Which is definitely not true.
Windows Restore enters the system surreptitiously, and will hide its presence from the user until its ready to start its attack on the PC. In fact, you might be infected even now, without your knowledge. Windows Restore is just that good at slithering into your computer. If you want to check whether you have been infected or not, you are recommended to use the suggested malware scanner.
The rogue has many ways to arrive at your doorstep. But when it does, it will sure let you know, that it is there. This will happen by Windows Restore spamming the user with numerous fake security notifications. These false security alerts were designed with the exclusive intention of panicking the user into believing his system is under attack. They are utterly without basis and should receive no attention whatsoever.
Users infected with Windows Restore complained about being unable to connect to the Internet, as well as the inability to launch any type of executable on the system. Erratic system behavior and poor system performance are also common features of this rogue application. All of that is being done, so that Windows Restore would remain in your computer for a longer period of time. The longer the stay, the more you would be inclined to pay for the supposed "fix" of your computer. Because Windows Restore offers you its services in banishing the threats from your computer.
But don't be fooled, Windows Restore is the only threat you've got over there. Were you to provide it with your credit card information, the criminals behind this scam then will be able to access your account anytime, and in the end you will be left penniless. You need to shut down Windows Restore immediately and look for a way to get rid of this threat.
You will only regain control of your PC if you destroy Windows Restore immediately. You can do it manually, but if you find it too challenging, it can be safely achieved through making use of the removal power of a genuine security tool.

How to manually remove Windows Restore
Files associated with Windows Restore infection:
Windows Restore.lnk
Uninstall Windows Restore.lnk
dpdclcVKsU.exe
17555252.exe
%Programs%\Windows Restore\Windows Restore.lnk
%Programs%\Windows Restore
%Desktop%\Windows Restore.lnk
%Temp%\dfrgr
%Temp%\dfrg
%Temp%\[random].exe
%Temp%\[random]
Windows Restore processes to kill:
dpdclcVKsU.exe
17555252.exe
%Temp%\[random].exe
Remove Windows Restore registry entries:
HKCU\Software\Microsoft\Windows\CurrentVersion\Run "[random].exe"
HKCU\Software\Microsoft\Windows\CurrentVersion\Run "[random]"