Danger level
:

9
Type:
Rogue Anti-Spyware
Common infection symptoms:
Block exe files from running
Installs itself without permissions
Connects to the internet without permission
Slow internet connection
Annoying Pop-up's
Slow Computer
Infection Video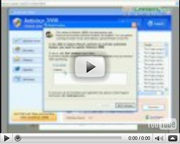 Windows Repair
Rogue antispyware applications are the kind of computer threats which aims for your personal information. Windows Repair is a new rogue, which is ready to plague your system until it gets what it wants. The program might look absolutely harmless and docile and first, but you will soon regret having it, when this parasite launches its intricate attack against you.
In order to avoid being infected you have to be careful when you browse the internet. Sometimes the download of the rogue's installer can be triggered by one single mouse click on a flashing advertisement or a pop-up. It is also possible to download not the actual rogue, but Windows Repair's download agent, which can start an attack some time later on. Whichever way Windows Repair might enter your system, the bottom line is that it is a dangerous parasite and a dangerous parasite must be tackled immediately.
When Windows Repair starts spamming you with endless security notifications, keep in mind that these pop-ups are fake, and they are generated by the rogue itself. The purpose of these messages is to cause you to panic. When you are not in the right state of mind, you are more inclined to do something thoughtless. That includes giving your credit card number away to the creators of Windows Repair. Revealing your credit card information is equivalent to giving away the key to your bank vault, so you should never do that. In fact, do the next best thing, and erase Windows Repair altogether, using a reliable malware removal tool.

How to manually remove Windows Repair
Files associated with Windows Repair infection:
Windows Repair.lnk
Uninstall Windows Repair.lnk
JmpyxPEOWqPO.exe
16113460.exe
%UserProfile%\Start Menu\Programs\Windows Repair\Windows Repair.lnk
%UserProfile%\Start Menu\Programs\Windows Repair\Uninstall Windows Repair.lnk
%UserProfile%\Start Menu\Programs\Windows Repair\
%UserProfile%\Desktop\Windows Repair.lnk
%AllUsersProfile%\Application Data\[random].exe
%AllUsersProfile%\Application Data\[random].dll
%AllUsersProfile%\Application Data\~[random]r
%AllUsersProfile%\Application Data\~[random]
Files associated with Windows Repair infection (Win7, Vista):
%UserProfile%\Start Menu\Programs\Windows Repair\Windows Repair.lnk
%UserProfile%\Start Menu\Programs\Windows Repair\Uninstall Windows Repair.lnk
%UserProfile%\Start Menu\Programs\Windows Repair\
%UserProfile%\Desktop\Windows Repair.lnk
%AllUsersProfile%\[random].exe
%AllUsersProfile%\[random].dll
%AllUsersProfile%\[random]r
%AllUsersProfile%\~[random]
Windows Repair DLL's to remove:
%AllUsersProfile%\Application Data\[random].dll
Windows Repair processes to kill:
JmpyxPEOWqPO.exe
16113460.exe
%AllUsersProfile%\Application Data\[random].exe
Remove Windows Repair registry entries:
HKEY_CURRENT_USER\Software\Microsoft\Internet Explorer\Download "CheckExeSignatures" = 'no'
HKEY_CURRENT_USER\Software\Microsoft\Internet Explorer\Main "Use FormSuggest" = 'yes'
HKEY_CURRENT_USER\Software\Microsoft\Windows\CurrentVersion\Explorer\Advanced "Hidden" = '0'
HKEY_CURRENT_USER\Software\Microsoft\Windows\CurrentVersion\Explorer\Advanced "ShowSuperHidden" = 0'
HKEY_CURRENT_USER\Software\Microsoft\Windows\CurrentVersion\Internet Settings "CertificateRevocation" = '0'
HKEY_CURRENT_USER\Software\Microsoft\Windows\CurrentVersion\Internet Settings "WarnonBadCertRecving" = '0'
HKEY_CURRENT_USER\Software\Microsoft\Windows\CurrentVersion\Policies\ActiveDesktop "NoChangingWallPaper" = '1'
HKEY_CURRENT_USER\Software\Microsoft\Windows\CurrentVersion\Policies\Associations "LowRiskFileTypes" = '/{hq:/s`s:/ogn:/uyu:/dyd:/c`u:/bnl:/ble:/sdf:/
HKEY_CURRENT_USER\Software\Microsoft\Windows\CurrentVersion\Policies\Attachments "SaveZoneInformation" = '1'
HKEY_CURRENT_USER\Software\Microsoft\Windows\CurrentVersion\Policies\System "DisableTaskMgr" = '1'
HKEY_CURRENT_USER\Software\Microsoft\Windows\CurrentVersion\Run "[random]"
HKEY_CURRENT_USER\Software\Microsoft\Windows\CurrentVersion\Run "[random].exe"
HKEY_LOCAL_MACHINE\SOFTWARE\Microsoft\Windows\CurrentVersion\policies\system "DisableTaskMgr" = '1'