Danger level
:

9
Type:
Rogue Anti-Spyware
Common infection symptoms:
Block exe files from running
Connects to the internet without permission
Slow internet connection
Annoying Pop-up's
Slow Computer
Other mutations known as:
Infection Video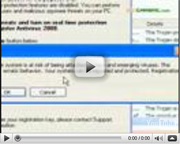 Windows Power Expansion
The Fake Microsoft Security Essentials scam is an ever-growing family of rogue system optimization application. The newest addition to the group is Windows Power Expansion. Despite the pompous title of the software application, it is a malicious threat, which poses as a good security program. Windows Power Expansion certainly has an attractive interface, but that is because it is supposed to trick a computer user into believing that this program can deal with computer errors.
Windows Power Expansion is a rogue which can easily get into your computer without your knowledge. Therefore you should take infection prevention measures seriously and always check for any spyware files on your computer. Feel free to download the suggested malware scanner, to see if you have been infected already.

This rogue has the same feature which is common to all of its predecessors. Windows Power Expansion can block your desktop access, so you would not be able to launch your internet browser and find a way to get rid of this parasite.
In order to get your desktop back, please follow these instructions:
1. Reboot your computer and wait for it to load until Windows Power Expansion's application appears on your screen. Click the "OK" button to make it disappear.
2. The rogue will now start the fake system scan. Wait for it to end, and when another notification appears, click "OK" again.
3. Now close the application by clicking on the red "X" at the right top of it.
4. It should now disappear and you will have your desktop restored.
If you are wondering how Windows Power Expansion got into your computer, then this rogue is usually distributed through fake online scanner websites. You can be redirected to the site hosting a download file for the rogue when you click on a flashing advertisement or on any other suspicious link. The link to fake scanner site can be found even in a site that you know. This suggests that you should refrain from clicking on anything and anywhere that pops up in your screen unexpectedly.
Since Windows Power Expansion pretends to be a reliable security program, when it entrenches in your computer, it suggests you to do a full system scan, in order to optimize the PC performance and remove the detected errors. Naturally, Windows Power Expansion does not have the ability to detect any errors in your system, and all of these messages displayed by the rogue should be ignored:
System component corrupted!
System reboot error has occurred due to lsass.exe system process failure.
This may be caused by severe malware infections.
Automatic restore of lsass.exe backup copy completed.
The correct system performance can not be resumed without eliminating the cause of lsass.exe corruption.
Warning!
Name: firefox.exe
Name: c:\program files\firefox\firefox.exe
Application that seems to be a key-logger is detected. System information security is at risk. It is recommended to enable the security mode and run total System scanning.
Microsoft Security Essentials Alert
Potential Threat Details
Microsoft Security Essentials detected potential threats that might compromise your private or damage your computer. Your access to these items may be suspended until you take an action. Click 'show details' to learn more.
Threat prevention solution found
Security system analysis has revealed critical file system vulnerability caused by severe malware attacks.
Risk of system files infection:
The detected vulnerability may result in unauthorized access to private information and hard drive data with a seriuos possibility of irreversible data loss and unstable PC performance. To remove the malware please run a full system scan. Press 'OK' to install the software necessary to initiate system files check. To complete the installation process please reboot your computer.
System Security Warning
Attempt to modify register key entries is detected. Register entries analysis is recommended.
Windows Power Expansion enters your system with one goal in mind – stealing your money. Don't give away your credit card number or any personal information that the rogue would like to know. Instead, acquire a good security tool and remove Windows Power Expansion once and for all.

How to manually remove Windows Power Expansion
Files associated with Windows Power Expansion infection:
dkjwir.exe
%AppData%\Microsoft\[random].exe
Windows Power Expansion processes to kill:
dkjwir.exe
%AppData%\Microsoft\[random].exe
Remove Windows Power Expansion registry entries:
HKCU\Software\Microsoft\Windows NT\CurrentVersion\Winlogon\Shell "%AppData%\[random].exe