Danger level
:

9
Type:
Rogue Anti-Spyware
Common infection symptoms:
Block exe files from running
Installs itself without permissions
Connects to the internet without permission
Slow internet connection
System crashes
Annoying Pop-up's
Slow Computer
Windows Defence Center
It is impossible to measure the zeal with which the creators of malicious software are releasing new computer threats every single day. Windows Defence Center is yet another addition to the growing bunch of rogue system optimization applications which are designed to mimic Microsoft Security Essentials software. The line of the products from the Fake Microsoft Security Essentials scam is only growing, and Windows Defence Center is a direct clone of such notorious rogues as Windows Care Tool, Windows Error Connection, Windows Efficiency Manager and many more.
Such computer threats like Windows Defence Center are able to enter your system in secret and sometimes you can be infected already without even knowing it. If you suspect that you might have been contaminated by this threat, but you are not completely sure, feel free to download the recommended malware scanner and check your computer.

You need to keep in mind that Windows Defence Center has multiple ways to access your system via Internet. One single click on a flamboyant flash advertisement might lead you to getting a Trojan infection, which consequently, might bring the rogue along and install it into your computer. Windows Defence Center is a nasty parasite, because it is designed to look (and act!) like a genuine security program. It has a sleek appearance and after the installation it initiates a system scan to check whether your computer has been infected. Naturally, this "scan" that the program initiates is fake and you should never take notice of the security messages that you receive from Windows Defence Center. These security alerts include such messages as:
Microsoft Security Essentials Alert
Potential Threat Details
Microsoft Security Essentials detected potential threats that might compromise your private or damage your computer. Your access to these items may be suspended until you take an action. Click 'show details' to learn more.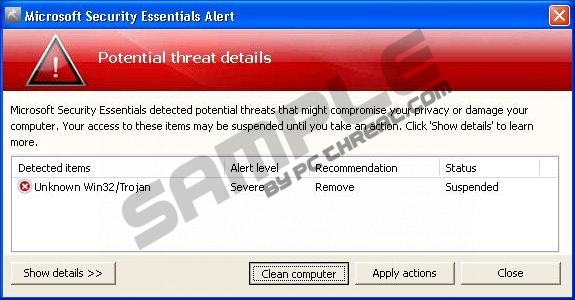 Threat prevention solution found
Security system analysis has revealed critical file system vulnerability caused by severe malware attacks.
Risk of system files infection:
The detected vulnerability may result in unauthorized access to private information and hard drive data with a seriuos possibility of irreversible data loss and unstable PC performance. To remove the malware please run a full system scan. Press \'OK\' to install the software necessary to initiate system files check. To complete the installation process please reboot your computer.
System Security Warning
Attempt to modify register key entries is detected. Register entries analysis is recommended.
System component corrupted!
System reboot error has occurred due to lsass.exe system process failure.
This may be caused by severe malware infections.
Automatic restore of lsass.exe backup copy completed.
The correct system performance can not be resumed without eliminating the cause of lsass.exe corruption.
Warning!
Name: firefox.exe
Name: c:program filesfirefoxfirefox.exe
Application that seems to be a key-logger is detected. System information security is at risk. It is recommended to enable the security mode and run total System scanning.
The obvious poor syntax and spelling of these messages prove that they are not real and you should never follow the instructions you receive from Windows Defence Center, because this rogue is created with one single purpose in mind – such cyber parasites are only trying to rip unsuspecting users off. By generating a mass of spam-like security messages it tries to convince you that you need to purchase a full version of this "great" security program.
However, if you do fall into this trap and provide Windows Defence Center with your credit card number, you pretty much give away the key to your vault, because with your credit card information exposed, the cyber criminals behind this fraud, will be able to access your bank account anytime, and sooner or later, you will be left without a single penny.
Also, if you stay strong and don't listen to Windows Defence Center's commands, the rogue can have its way no matter what, because it has a very disturbing feature – it can block the access to your desktop, disallowing you to see your icons and your taskbar. That is definitely very frustrating, but you can have your desktop back if you follow these instructions:
1. Reboot your computer. Afterward, when it starts up again, you will see the rogue's application on your screen. Click "OK" and it will disappear. Then Windows Defence Center will initiate a fake system scan.
2. When the scan is done you will receive another fake security notice. Click the "OK" button one more time.
3. Now you can make the notification go away by clicking on the red "X" at the right top of it.
4. It will vanish and you should get your desktop back.
These problems you experience with the access to your desktop only add up to a whole variety of negative symptoms, caused by Windows Defence Center. Obviously, you need to clean your computer off this annoying pest, so get yourself a reliable security tool as soon as possible and terminate Windows Defence Center before it is too late.

How to manually remove Windows Defence Center
Files associated with Windows Defence Center infection:
ukluej.exe
%AppData%\[random].exe
Windows Defence Center processes to kill:
ukluej.exe
%AppData%\[random].exe
Remove Windows Defence Center registry entries:
HKCU\Software\Microsoft\Windows NT\CurrentVersion\Winlogon\Shell "%AppData%\[random].exe"