Danger level
:

9
Type:
Rogue Anti-Spyware
Common infection symptoms:
Installs itself without permissions
Connects to the internet without permission
Shows commercial adverts
System crashes
Annoying Pop-up's
Slow Computer
Other mutations known as:
PersonalInternetSecurity2011
Infection Video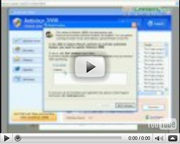 Personal Internet Security 2011
Developers behind rogue security tools want to confuse their intended victims into believing at first glance that their products are legitimate. This can easily be deduced from the seemingly legitimate names bestowed upon their monstrous creations, as is the case with Personal Internet Security 2011. The name alone seems harmless enough, even deceptively helpful. Don't be fooled – Personal Internet Security 2011 hails from the very same family as destructive and harmful know rogues Personal Security Sentinel, Internet Antivirus 2011 and Internet Security Suite. Personal Internet Security 2011 also has known ties to other well known rogues such as Smart Security and My Security.
Personal Internet Security 2011 is a rogue antispyware application which emulates the working of a real security application. Although Personal Internet Security 2011 would like you to believe it is a genuinely helpful and valuable application, the developers behind it are nothing more than unscrupulous cyber criminals. This is evident from the associations Personal Internet Security 2011 has with the aforementioned known roguewares, as well as from the very nature of Personal Internet Security 2011.

Distributed via Trojan and malware bundled downloads Personal Internet Security 2011 will enter the system without the permission of the user. Dishonest and corrupt browser hijacking websites have also been known to feature in Personal Internet Security 2011's online marketing campaign, and will infect the user with the Personal Internet Security 2011 Trojan simply by redirecting them to their illicit website. It can be difficult to protect one's system against such hostile and insistent threats. Tthe only way you can continually protect your system is by investing in properly updated security tools.
As with most any other rogues, Personal Internet Security 2011 will assail its victim with various fake security alerts. This in an effort to gain the user's trust, and to blame all the erratic system behaviour on these supposed purported threats. Users should not pay not to pay attention to these fake alerts, and not to follow its call of action. Any parasite is dependent on user interaction so that it can successfully execute its goal, and will not be able to compromise the system without it. It is for this reason why the following should be disregarded at all times:
"Warning
Warning! Virus detected Threat Detected: Trojan-Spy.HTML.Sunfraud.a"
Personal Internet Security 2011is known known to block its victims' Internet connections. This in an effort to prevent the user from accessing security websites. It will also prevent the user from downloading a tool which will get rid of Personal Internet Security 2011. If you find Personal Internet Security 2011 has blocked your Internet connection, enter the following security key which should restore the Internet connection and put a stop to the incessant pop up messages:
"U2FD-S2LA-H4KA-UEPB"
Do not believe that by entering the above security key that your PC is now rid of Personal Internet Security 2011. The threat is still very real, and if left untreated, Personal Internet Security 2011 will open the way for many other threats and parasites to enter the system.
At the end of the day, Personal Internet Security 2011 has no ability to detect, quarantine or remove any threats. This rogue is only out to steal its victim's money, and users are warned against ever paying for a Personal Internet Security 2011 product. By disclosing their sensitive payment details to any of the many online payment portals for Personal Internet Security 2011, users will not only lose their money but expose themselves to other serious criminal acts like identity and credit card fraud.
Do not become its next victim – erase Personal Internet Security 2011 off your PC before it destroys the system. Make use of the removal power of a powerful security application which will not only eradicate Personal Internet Security 2011, but offer continued protection against future similar attacks.
How to renew your internet connection:
This rogue antispyware blocks your Internet connection to prevent you from removing the rogue application. To enable the Internet connection, please follow these instructions:
Open Internet Explorer and go to >Tools< select >Internet Options<

Select >Connections<

Select >LAN Settings<

Now you need to uncheck the checkbox labeled >Use a proxy server for your LAN< in Proxy Server section. Then press the >OK< button to close this screen and press the >OK< button to close the Internet Options screen.

Now you can download the SpyHunter scanner and remove the infection.

How to manually remove Personal Internet Security 2011
Files associated with Personal Internet Security 2011 infection:
Personal Internet Security 2011.lnk
PIe18_302.exe
PI7a8_231.exe
PI67f_2208.exe
PI504_2129.exe
PI3fb_2164.exe
PI3c0_2119.exe
PI3bd_231.exe
PI36d_290.exe
PI34c_2164.exe
PI043_2164.exe
PersonalIS2011.exe
eval_28146.exe
%ALLUSERSPROFILE%\Application Data\df30\PersonalIS2011.exe
%ALLUSERSPROFILE%\Application Data\ec3a\PersonalIS2011.exe
%ALLUSERSPROFILE%\Application Data\242510\PersonalIS2011.exe
%commonprograms%\Personal Internet Security 2011.lnk
%startmenu%\Personal Internet Security 2011.lnk
%appdata%\personal internet security 2011\instructions.ini
%appdata%\personal internet security 2011\cookies.sqlite
%commonappdata%\smeyfe
%commonappdata%\sqhdr5\35.mof
%commonappdata%\sqhdr5\wksra_249.exe
Personal Internet Security 2011 processes to kill:
PIe18_302.exe
PI7a8_231.exe
PI67f_2208.exe
PI504_2129.exe
PI3fb_2164.exe
PI3c0_2119.exe
PI3bd_231.exe
PI36d_290.exe
PI34c_2164.exe
PI043_2164.exe
eval_28146.exe
PersonalIS2011.exe
wksra_249.exe
Remove Personal Internet Security 2011 registry entries:
hkcrPersonalSS.DocHostUIHandler
hkcr\CLSID\{3F2BBC05-40DF-11D2-9455-00104BC936FF}
hkcu\Software\3
hkcu\Software\Microsoft\Windows\CurrentVersion\Run "Personal Internet Security 2011″