Danger level
:

9
Type:
Rogue Anti-Spyware
Common infection symptoms:
Installs itself without permissions
Connects to the internet without permission
Slow internet connection
System crashes
Annoying Pop-up's
Slow Computer
Other mutations known as:
Infection Video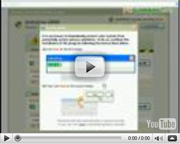 Smart HDD
Other than rogue antispyware and antivirus applications to be on the lookout for, users need to be weary of fake system optimizers feigning the workings of a genuine optimizer, as in the case of dexterous Smart HDD. Deriving from the same family as Smart Defragmenter and HDD Rescue, it's clearly easy to see why you'll need to obliterate Smart HDD off your system the moment it's discovered. To ease up removal procces you can copy paste and paste in this code: 0973467457475070215340537432225.
As with any other rogueware, Smart HDD's main goal is to fleece consumers out of their money. It will not squirm to employ every deceitful and questionable action thinkable to achieve this aim, including performing permanent and irreversible damage to its victim's PC. Entering the system with the help of exploitive Trojan and malware infections, Smart HDD will inform the user that there are many errors which contribute to system malfunction. It will do this by making use of various annoying popup messages.

These fake security alerts are used as part of Smart HDD's attack on the system in an effort to panic the user into paying for Smart HDD products. Some of the more notorious fake alerts to be on the lookout for include:
"Windows detected a hard drive problem.
A hard drive error occurred while starting the application."
"Windows cannot find notepad. Make sure you typed the name correctly, and then try again. To search for a file, click the Start button, and then click Search."
"Requested registry access is not allowed. Registry defragmentation required"
Smart HDD is simply unable to live up to any of its embellished promises, and will not offer any benefits to an infected system. Users who did not get rid of Smart HDD in time reported on being unable to connect to the Internet, and were blocked from accessing vital parts of their system.
In order to limit the damage posed by this incredulous rogue, users are strongly advised to destroy Smart HDD. A powerful security application should be able to completely get rid of Smart HDD for good.
UPDATE
Another version of Smart HDD (which first was released in December 2010) was relaunched in March 2012. There are some changes concerning the latest release. First, the new variant has scanning process and scanning result tables named as S.M.A.R.T Check and S.M.A.R.T Repair. Second, this new simulated system optimizer now has a more professional looking interface which might lead innocent users to believe that Smart HDD can be trusted.
This malware presents itself as a hard drive monitoring tool which supposedly detects such fake hard drive failures as relevant data losses, runs fake error scans and provide users with numerous false errors which in real life are presented in a completely different way. Some of examples of the fake hard drive errors are give and explained below:
Hard drive boot sector reading error
During I/O system initialization, the boot device driver might have failed to initialize the boot device. File System initialization might have failed because it did not recognize the data on the boot device.
Your computer is in critical state. Hard disk error detected.
As a result, it can lead to hard disk failure and potential loss of data. It is highly recommended to repair all found errors to prevent loss of files, applications and documents stored on your computer.
Error 0x00000024 – NTFS_FILE_SYSTEM
Why are these errors unreliable? If a hard drive boot sector error appears on the computer, the system cannot start running programs at all. Moreover, hard disk errors cannot be presented by such applications because the information about hard disk errors is usually presented on a blue screen. Thus, the issues given in the fake scanning table should be ignored.
In addition, the rogue hides relevant data from the screen so that you think that it has been destroyed. You do not see icons in Start menu and program shortcuts in the screen. Not to mention the fact that you cannot view relevant files of the system when you open programs' folders by clicking on them. These actions taken against you are planned to make you believe that you are at risk. To restore your data, follow the instructions given:
1.If you are running Windows XP, in Start menu click Run option.
2.Enter cmd and press OK button.
3.When a black screen opens, enter a line: attrib.exe -s -h -r [home_drive]:\*.* /s /d which should be changed according to your home drive. Usually, it is C disk, so instead of [home_drive] enter C.
If you are using Windows Vista or Windows 7, enter cmd in start menu and hit Ctrl+Shift+Enter. Then select OK in Windows dialog box to open C:\WINDOWS\System32\cmd.exe. To restore the data, go back to see step 3 above.
To disable the fake alarm messages and then to perform the removal of Smart HDD, use a registration key which can be registered with an imaginary email address and you do not have to reveal your personal email. Do not forget that the infection is still present in your system after entering the registration code and it is important to delete it from the system. The previously given registration does not work on the new Smart HDD release; thus we present a new registration code:
15801587234612645205224631045976
Please remember that now when you have entered the code, the next step of yours should be the disposal of the rogue.

How to manually remove Smart HDD
Files associated with Smart HDD infection:
Uninstall Smart HDD.lnk
Smart HDD.lnk
SMART_HDD.lnk
OnMHXKxg77,(JSg.exe
9903f2.exe
%Programs%\Smart HDD\Uninstall Smart HDD.lnk
%Programs%\Smart HDD\Smart HDD.lnk
%Programs%\Smart HDD
%Desktop%\Smart HDD.lnk
%Temp%\Windows Update.exe
%Temp%\dfrgr
%Temp%\dfrg
%Temp%\[random].dll
%Temp%\[random].exe
%Temp%\[random]
Smart HDD DLL's to remove:
%Temp%\[random].dll
Smart HDD processes to kill:
OnMHXKxg77,(JSg.exe
9903f2.exe
%Temp%\[random].exe
%Temp%\Windows Update.exe
Remove Smart HDD registry entries:
HKCU\Software\Microsoft\Windows\CurrentVersion\Run "[random].exe"
HKCU\Software\Microsoft\Windows\CurrentVersion\Run "[random]"