Danger level
:

7
Type:
Rogue Anti-Spyware
Common infection symptoms:
Installs itself without permissions
Connects to the internet without permission
Slow internet connection
System crashes
Annoying Pop-up's
Slow Computer
Other mutations known as:
XPSecurity2011
Infection Video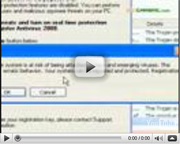 XP Security 2011
More and more users continue to fall prey to clever scams such as XP Security 2011, a fabricated and supposed security tool which in reality is nothing more than rogue antispyware. Users are urged to be on the lookout for this tool, as it is dangerous and will potentially cause permanent harm to their PCs. If you suspect your PC of being infected with it, take the appropriate steps to permanently eliminate XP Security 2011 off your system.
XP Security 2011 enters its victims' PCs through the aiding of sneaky Trojan horse and harmful malware infections. This is particularly true of Trojans imitating genuine download updates but which is actually secretly spreading the XP Security 2011 infection. These infections were designed to remain stealth and in most cases victims of these elaborate infections won't know they've been compromised until after the fact.
Exploiting security flaws in its victims' OS, XP Security 2011 will begin to break down the inherent security features of the host PC as soon as the infection takes root. This is all done in an effort to secure a successful sale of its worthless software. Users should never pay for XP Security 2011, as they will receive nothing of value for their money. Handing over sensitive billing information to the developers of XP Security 2011 will also expose them to identity and credit card fraud.
XP Security 2011 will start spamming its victims with various fake security alerts in an effort to further panic and annoy them into thinking their PCs are under attack, and to purchase XP Security 2011. Following are some of the fake alerts generated by XP Security 2011:
Privacy threat!
Spyware intrusion detected. Your system is infected. System integrity is at risk. Private data can be stolen by third parties, including credit card details and passwords. Click here to perform a security repair.
Stealth intrusion!
Infection detected in the background. Your computer is now attacked by spyware and rogue software. Eliminate the infection safely, perform a security scan and deletion now.
You can stop all these annoying symptoms by entering the following activation keys into XP Security 2011:
1145-17884799-7733
1147-175591-6550
In order to limit the damage posed by this disgusting rogue, users need to proactively take steps to delete XP Security 2011 off the system. Make use of the removal power of a genuine security tool which is able to get rid of XP Security 2011 for good.