Danger level
:

8
Type:
Rogue Anti-Spyware
Common infection symptoms:
Installs itself without permissions
Connects to the internet without permission
Slow internet connection
Annoying Pop-up's
Slow Computer
Block exe files from running
Normal system programs crash immediatelly
System crashes
Other mutations known as:
XPAntispyware2011
Infection Video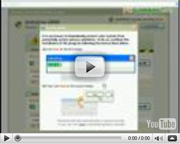 XP Antispyware 2011
Just like many rogue antispyware applications the makers choose the name very carefully in order to try and fool innocent users. XP Antispyware 2011 is actually a substitute for XP Antispyware 2010 as well as XP Antispyware 2009. XP Antispyware 2011 gains access to your computer system via the use of Trojans.
You need to know that XP Antispyware 2011 may result in computer security scans been shown as well as false computer security scan report results. This is all done in order to try and make you believe that your machine is infected so that you will purchase the full version and get nothing back in return. You need to know that XP Antispyware 2011 will result in a computer system which is both slower and less functional than prior to infection.
The best thing to do would be to take all the precautions necessary in order to remain safe. This would entail purchasing a reliable antispyware removal tool that will effectively be able to get rid of XP Antispyware 2011 immediately.
XP Antispyware 2011 is a part of a huge family of rogue antispyware applications. All these rogues have similar interfaces and display the same fake security notifications. For example, apart from XP Antispyware 2011, there are alwso Vista Antispyware 2011, Win 7 Internet Security 2011 and many more. XP Antispyware 2011 takes its shape only when it infects a target computer, because the name of a rogue from this group depends on the operating system installed on the infected computer. Obviously, XP Antispyware 2011 infects computers that run on Windows XP.
Here's an example of fake security messages delivered by XP Antispyware 2011
Privacy threat!
Spyware intrusion detected. Your system is infected. System integrity is at risk. Private data can be stolen by third parties, including credit card details and passwords. Click here to perform a security repair.
Stealth intrusion!
Infection detected in the background. Your computer is now attacked by spyware and rogue software. Eliminate the infection safely, perform a security scan and deletion now.
System danger!
Your system security is in danger. Privacy threats detected. Spyware, keyloggers or Trojans may be working the background right now. Perform an in-depth scan and removal now, click here.
System Hijack!
System security threat was detected. Viruses and/or spyware may be damaging your system now. Prevent infection and data loss or stealing by running a free security scan.
What is more, since it is a Braviax family rogue, XP Antispyware 2011 can block your programs from running. It also includes your Internet browser. XP Antispyware 2011 does not allow you to access the Internet under the pretense that your browser is infected and needs to be closed. This is how it tries to avoid being removed. The rogue also wants to convince you that your computer is infected with spyware and you need to acquire full version of XP Antispyware 2011 to remove the non-existent threats.
To regain control of your computer you need to register XP Antispyware 2011.
145-17884799-7733
Use the code above for manual registration. When you do that, all your programs should start working again, but the registration is effective for the time being. Before the rogue came back, download SpyHunter, launch a full system scan and remove XP Antispyware 2011 automatically from your computer.

How to manually remove XP Antispyware 2011
Files associated with XP Antispyware 2011 infection:
vz.exe
pw.exe
AntiSpy2011Setup.exe
%UserProfile%\Local Settings\Application Data [random].exe
XP Antispyware 2011 processes to kill:
vz.exe
pw.exe
AntiSpy2011Setup.exe
[random].exe