Danger level
:

8
Type:
Rogue Anti-Spyware
Common infection symptoms:
Installs itself without permissions
Connects to the internet without permission
Slow internet connection
System crashes
Annoying Pop-up's
Slow Computer
Other mutations known as:
Infection Video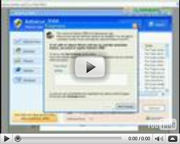 System Tool 2011
Do not be fooled by sophisticated and user friendly user interfaces, System Tool 2011 is rogue antispyware. This harmful tool will give itself off as a helpful and powerful security tool which is able to detect and remove malware infections. This is and remains simply untrue as System Tool 2011 offers no diagnostic or removal capabilities. It is a simple online scam aimed at unsuspecting PC owners who are inexperienced when discerning between genuine and fake security software.
System Tool 2011 might come across as a genuine security application out to protect users' PCs from online and malware threats, but it was designed with one purpose in mind: to trick users out of their money while leaving them with a worthless shell. It is best never to pay for any of its software applications, and to completely get rid of System Tool 2011 as soon as possible.
Users who have lived through a System Tool 2011 infection can attest to the vitriol behind its attack. As a first attack it will scan the victim's PC with an unsolicited security scan. It will then go on to report on the presence of many fake and seemingly serious infections. System Tool 2011 will do this by assailing the user with various fake security notifications. It will then go on to inflict the symptoms warned about in the security notifications as a way to panic the user into believing its fake messages. As a final attack on the PC and its owner System Tool 2011 will want the user to pay for a license for System Tool 2011 in order to remove the purported infections and to take back control of the system. This should simply never happen.
If you suspect your system of being compromised by System Tool 2011 and need to take your system back from this rogue, make use of powerful genuine security tools in order to permanently eliminate System Tool 2011 from your system/

How to manually remove System Tool 2011
Files associated with System Tool 2011 infection:
%ALLUSERSPROFILE%\Anwendungsdaten\[Random]\[Random].exe
%ALLUSERSPROFILE%\Programdata\[Random]\[Random].exe
hDnFn00908.exe
eNeLb00904.exe
pLcHe02100.exe
pJbKn01803.exe
pIjCp03000.exe
pFeFg01803.exe
pAnNk02100.exe
pAkBd01819.exe
oPjFm01804.exe
oPfCk02039.exe
oOmLc01831.exe
oOkFh01803.exe
oNhFm03000.exe
oKiBk01803.exe
oKdNa01829.exe
oGgIb01803.exe
oEpEi01804.exe
oEkGd01823.exe
nNcKp01805.exe
nMgPj01803.exe
nIfOc02100.exe
nHfAn02613.exe
nEeEe01811.exe
nCeLj01803.exe
nAhAi01801.exe
mPfBe00902.exe
mPdBi02100.exe
mNgId02613.exe
mLoBo01803.exe
mIiCg01805.exe
mCgEa01803.exe
lMhJl02100.exe
lHeKe01803.exe
lGpHf02100.exe
lGkFc01804.exe
lFnIh01823.exe
lDlMb03000.exe
kPcFe02900.exe
kLlJp00922.exe
kKnDg01804.exe
kKkGc01828.exe
kJlDm02100.exe
kIlIi01803.exe
kIjLh02100.exe
jNlAe02900.exe
jMcBh01803.exe
jLhAk00902.exe
jLaLb01804.exe
jIhAk01829.exe
jGfFk01843.exe
jBlJc01803.exe
iJbNn01820.exe
iEoPb00902.exe
hPiIf01804.exe
hOfPd01803.exe
hLcDp02100.exe
hIhGg01804.exe
hCfMl01834.exe
hAgMc01816.exe
hAaHm00922.exe
gBpEa02038.exe
fPoMe01803.exe
fLaDm01803.exe
fKkEj01847.exe
fKiLp01804.exe
fIpHa01807.exe
fIjMh01804.exe
fIhMk01803.exe
fEoLi01818.exe
eMcCh01804.exe
dPgKj01819.exe
dMkPc01803.exe
dMaKk00922.exe
dKmHj01814.exe
dHiLf01803.exe
dGjPh02100.exe
dDlEd01803.exe
dDdMk00139.exe
cPpIi00192.exe
cOnFp03000.exe
cOcOa01804.exe
cNlGa01601.exe
cLfJm02613.exe
cKfPi01803.exe
cAlJh03000.exe
bGoBe01803.exe
bCeLg01804.exe
aPhEl02613.exe
aKeNl02613.exe
aJeIm01803.exe
aIgLa01819.exe
aHkFl01804.exe
aFkKi01803.exe
aFkIk01813.exe
aApNc02100.exe
%ProgramData%\[random]\[random].exe
[random].exe
%AllUsersProfile%\Application Data\[random]\[random].exe
System Tool 2011 processes to kill:
%ALLUSERSPROFILE%\Anwendungsdaten\[Random]\[Random].exe
%ALLUSERSPROFILE%\Programdata\[Random]\[Random].exe
hDnFn00908.exe
eNeLb00904.exe
pLcHe02100.exe
pJbKn01803.exe
pIjCp03000.exe
pFeFg01803.exe
pAnNk02100.exe
pAkBd01819.exe
oPjFm01804.exe
oPfCk02039.exe
oOmLc01831.exe
oOkFh01803.exe
oNhFm03000.exe
oKiBk01803.exe
oKdNa01829.exe
oGgIb01803.exe
oEpEi01804.exe
oEkGd01823.exe
nNcKp01805.exe
nMgPj01803.exe
nIfOc02100.exe
nHfAn02613.exe
nEeEe01811.exe
nCeLj01803.exe
nAhAi01801.exe
mPfBe00902.exe
mPdBi02100.exe
mNgId02613.exe
mLoBo01803.exe
mIiCg01805.exe
mCgEa01803.exe
lMhJl02100.exe
lHeKe01803.exe
lGpHf02100.exe
lGkFc01804.exe
lFnIh01823.exe
lDlMb03000.exe
kPcFe02900.exe
kLlJp00922.exe
kKnDg01804.exe
kKkGc01828.exe
kJlDm02100.exe
kIlIi01803.exe
kIjLh02100.exe
jNlAe02900.exe
jMcBh01803.exe
jLhAk00902.exe
jLaLb01804.exe
jIhAk01829.exe
jGfFk01843.exe
jBlJc01803.exe
iJbNn01820.exe
iEoPb00902.exe
hPiIf01804.exe
hOfPd01803.exe
hLcDp02100.exe
hIhGg01804.exe
hCfMl01834.exe
hAgMc01816.exe
hAaHm00922.exe
gBpEa02038.exe
fPoMe01803.exe
fLaDm01803.exe
fKkEj01847.exe
fKiLp01804.exe
fIpHa01807.exe
fIjMh01804.exe
fIhMk01803.exe
fEoLi01818.exe
eMcCh01804.exe
dPgKj01819.exe
dMkPc01803.exe
dMaKk00922.exe
dKmHj01814.exe
dHiLf01803.exe
dGjPh02100.exe
dDlEd01803.exe
dDdMk00139.exe
cPpIi00192.exe
cOnFp03000.exe
cOcOa01804.exe
cNlGa01601.exe
cLfJm02613.exe
cKfPi01803.exe
cAlJh03000.exe
bGoBe01803.exe
bCeLg01804.exe
aPhEl02613.exe
aKeNl02613.exe
aJeIm01803.exe
aIgLa01819.exe
aHkFl01804.exe
aFkKi01803.exe
aFkIk01813.exe
aApNc02100.exe
[random].exe