Danger level
:

8
Type:
Rogue Anti-Spyware
Common infection symptoms:
Installs itself without permissions
Slow internet connection
System crashes
Slow Computer
Infection Video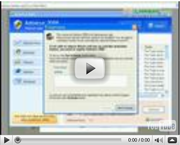 Vista Antispyware Pro 2013
No antivirus software on your PC may lead you to a tremendous data and money loss if you accidentally get infected with Vista Antispyware Pro 2013, which a clone of Win 7 Antispyware Pro 2013, XP Antispyware Pro 2013 and other deceitful applications design to rip you off without any compassion. Vista Antispyware Pro 2013 employs different techniques to scare you into believing that you are infected with a large number of threats, which are imaginary and which you should not delete on your own.
Pay no attention to system scans, different viruses, spyware or malware, Trojans and other supposedly real infections, because if you place your trust in this bogus application and activate it, not only do you lose your money, but also expose your personal identifiable information to cyber criminals. Your name, credit card number and its expiration date, home, and email address may be recorded so that further violations of laws are committed in your behalf. You will not return your money back, because the criminals behind Vista Antispyware Pro 2013 have not been unmasked yet.
To prevent cyber criminals from brutally violating your privacy, remove Vista Antispyware Pro 2013 with a respectable spyware removal program so that all the constituent elements of the malware will be terminated. Once you have deleted this fraudulent application, you can use your PC as usual, because the system is reverted to its previous settings.

How to manually remove Vista Antispyware Pro 2013
Files associated with Vista Antispyware Pro 2013 infection:
%CommonAppData%\[Random]
%LocalAppData%\[Random]
%LocalAppData%\[Random].exe
%Temp%\[Random]
%AppData%\Roaming\Microsoft\Windows\Templates\[Random]
Vista Antispyware Pro 2013 processes to kill:
%LocalAppData%\[Random].exe
Remove Vista Antispyware Pro 2013 registry entries:
HKEY_CLASSES_ROOT\.exe\shell\open\command "(Default)" = "%LocalAppData%\[Random].exe" -a "%1" %*
HKEY_CLASSES_ROOT\ah\shell\open\command "(Default)" = "%LocalAppData%\[Random].exe" -a "%1" %*
HKEY_CURRENT_USER\Software\Classes\[Random]\shell\open\command "(Default)" = "%LocalAppData%\[Random].exe" -a "%1" %*
HKEY_CURRENT_USER\Software\Classes\[Random]\DefaultIcon "(Default)" = '%1'
HKEY_CLASSES_ROOT\[Random]
HKEY_CURRENT_USER\Software\Classes\[Random] "(Default)" = 'Application'
HKEY_CURRENT_USER\Software\Classes\.exe\shell\open\command "(Default)" = "%LocalAppData%\[Random].exe" -a "%1" %*
HKEY_CLASSES_ROOT\ah\shell\open\command "IsolatedCommand"
HKEY_CURRENT_USER\Software\Classes\.exe "(Default)" = '[Random]'
HKEY_LOCAL_MACHINE\SOFTWARE\Clients\StartMenuInternet\IEXPLORE.EXE\shell\open\command "(Default)" = ""%LocalAppData%\[Random].exe" -a "C:\Program Files\Internet Explorer\iexplore.exe""
HKEY_LOCAL_MACHINE\SOFTWARE\Clients\StartMenuInternet\FIREFOX.EXE\shell\safemode\command