Danger level
:

9
Type:
Rogue Anti-Spyware
Common infection symptoms:
Installs itself without permissions
Connects to the internet without permission
Shows commercial adverts
Slow internet connection
System crashes
Annoying Pop-up's
Slow Computer
Infection Video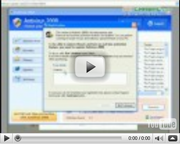 Computer Defender 2009
Computer Defender 2009 is a rogue anti-spyware application. And no – this application will not be able to assist you any way, shape or form. This program is dubious and was designed to have harmful functionality.
Computer Defender 2009 is also referred to as ComputerDefender2009, ComputerDefender 2009 or Computer Defender2009.
Computer Defender 2009 is believed by many experts to be a duplicate of Smart Defender Pro (also known as SmartDefenderPro, SmartDefender Pro, and Smart DefenderPro), another rogue anti-spyware application.
Computer Defender 2009 enters into a computer system via a Trojan application, which sneaks into the system via security exploits, such as spam emails or it can be installed by another malware.
Another way Computer Defender 2009 enters into a system is via its affiliated malicious websites, where the unsuspecting user will unwittingly and unknowingly install this dubious application manually.
Computer Defender 2009 generates fictitious system warning alert messages, generates fake scan reports and fake error messages about the "infection" on the computer system. All of this is aimed at ensuring the user of the computer system is coerced and tricked into purchasing the "full" version of Computer Defender 2009 software.
Computer Defender 2009 should not be trusted or purchased as it is rogue anti-spyware software and should be deleted immediately upon detection!
Manual removal is probably your best bet at maintaining the integrity of your computer, but manual removal should only be tried by those individuals that know a bit about registry files, and should be left to the individual who knows how to navigate their way around system files.
All in all though, I would recommend, especially if you are not completely tech savvy, one should make use of a reliable and legitimate, fully functional, up-to-date anti-spyware application, to remove Computer Defender 2009 and all its components from the infected computer system.

How to manually remove Computer Defender 2009
Files associated with Computer Defender 2009 infection:
comp-def-2009.exe
cd2009.exe
cd2009.exe
comp-def-2009.exe
%AppData%\Computer Defender 2009
Visit Computer Defender 2009 Homepage.lnk
Computer Defender 2009..lnk
%AllUsersProfile%\Start Menu\Programs\Computer Defender 2009
Computer Defender 2009.lnk
%ProgramFiles%\Computer Defender 2009
Computer Defender 2009 processes to kill:
comp-def-2009.exe
cd2009.exe
cd2009.exe
comp-def-2009.exe
Remove Computer Defender 2009 registry entries:
Computer Defender 2009_is1
Microsoft\Windows\CurrentVersion\Uninstall\Computer Defender 2009_is1
Microsoft\Windows\CurrentVersion\Run\Computer Defender 2009
Computer Defender 2009
Computer Defender 2009