Danger level
:

9
Type:
Rogue Anti-Spyware
Common infection symptoms:
Block exe files from running
Installs itself without permissions
Connects to the internet without permission
System crashes
Annoying Pop-up's
Infection Video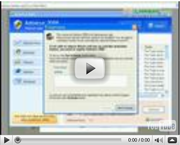 Windows AntiBreach Suite
Rogue antispywares can really turn one's smile upside down, and Windows AntiBreach Suite, clone of Windows Antibreach Tool, will irritate you, until you are completely annoyed and decide to spend your money on bogus tool's full version. Have no dither whether this is a terrible move, because this online schemers' instrument is completely fake, and its full version will not only NOT protect your operating Windows system, but will also help cyber criminals to gather your personal information! What is more, if you do not rush to delete Windows AntiBreach Suite, this rogue could even weaken your system, making it more vulnerable to further attacks!
If you think that disastrous schemers' attack starts when you are being forced to purchase their fake malware removal tool's full version, you are wrong, because it all begins with the treacherous infection's infiltration. Hackers, working behind the malignant virus, can fool you into acquiring it with any illegal, bundled downloads, spam email attachments, and can even make you run the rogue, hidden behind a fictitious piece of software (e.g. video codec).
When all infection's components are activated, its "true" face shows up, and various notifications, fictitious scanner reports and misleading symptoms will make you start thinking that your system is beleaguered by Trojans, worms, keyloggers, adware, and other falsely detected infections. If you try to delete these yourself, you will find that the only possible solution is Windows AntiBreach Suite full version malware removal application's purchase. Do not believe any bogus proclamations and delete Windows AntiBreach Suite, before schemers behind this treacherous rogue steal your money and your details. Use automatic removal tools to remove the virus, or follow manual removal guidance, if you are more advanced.
While some computer users are able to remove Windows AntiBreach Suite using automatic malware detection and removal software without much trouble, others are struggling. The threat can remove access to the browsers and block the running of other executable files so that you could not download and install authentic malware removal software. You can try to download a reliable malware remover onto a separate computer and then transfer the installer onto the infected machine. If you cannot run the file, you can apply one of the activation keys listed below. Enter the key into the area for registered rogue's users and you will trick its developers into disabling all existing symptoms.
Activation keys:
0W000-000B0-00T00-E0001
0W000-000B0-00T00-E0002
0W000-000B0-00T00-E0003
What if the keys do not work and you are still denied access to the web? In this case you can install automatic malware removal software using the instructions below. Do not be intimidated by the number of steps and perform them without further delay.
Delete Windows AntiBreach Suite
Restart the PC.
Wait for BIOS screen to disappear.
Immediately start tapping F8 to launch a menu.
Using arrow keys on the keyboard select Safe Mode with Command Prompt.
Tap Enter on the keyboard to confirm your selection.
As the PC reboots and the Command Prompt shows up, navigate to C:\Windows\system32\ .
Type cd.. right after and tap Enter for the C:\Windows line to appear.
Now type \explorer.exe and tap Enter on the keyboard.
Navigate to the left of the Task Bar and click the Start icon.
Type %appdata% into RUN/Search boxes and tap Enter.
Locate svc-[random file name].exe in the Application Data folder, right-click it and select Delete.
Once the malicious file is removed restart the computer again (Normal Mode).
Open the Start menu, type regedit into RUN/Search boxes and tap Enter to access the Windows Registry.
Go to HKEY_CURRECT_USER\Software\Microsoft\Windows NT\Current Version\Winlogon .
Right-click Shell and select Modify.
Locate the Value box, enter %WinDir%\Explorer.exe and click OK.
Launch the browser of your choice and visit http://www.pcthreat.com/download-sph .
Follow the instructions to download an automatic malware remover onto your PC.
Install the application and use it to delete all malware.
N.B. Keep the installed malware remover updated at all times if you wish to have the operating system guarded against schemers' attacks in the future.

How to manually remove Windows AntiBreach Suite
Files associated with Windows AntiBreach Suite infection:
svc-coor.exe
%AppData%\data.sec
%AppData%\svc-[random file name].exe
Windows AntiBreach Suite processes to kill:
%AppData%\svc-[random file name].exe
svc-coor.exe
Remove Windows AntiBreach Suite registry entries:
HKEY_LOCAL_MACHINE\SOFTWARE\Microsoft\Windows NT\CurrentVersion\Image File Execution Options\k9filter.exe
HKEY_LOCAL_MACHINE\SOFTWARE\Microsoft\Windows NT\CurrentVersion\Image File Execution Options\MpCmdRun.exe
HKEY_LOCAL_MACHINE\SOFTWARE\Microsoft\Windows NT\CurrentVersion\Image File Execution Options\MpUXSrv.exe
HKEY_LOCAL_MACHINE\SOFTWARE\Microsoft\Windows NT\CurrentVersion\Image File Execution Options\MSASCui.exe
HKEY_LOCAL_MACHINE\SOFTWARE\Microsoft\Windows NT\CurrentVersion\Image File Execution Options\msconfig.exe
HKEY_LOCAL_MACHINE\SOFTWARE\Microsoft\Windows NT\CurrentVersion\Image File Execution Options\msmpeng.exe
HKEY_LOCAL_MACHINE\SOFTWARE\Microsoft\Windows NT\CurrentVersion\Image File Execution Options\msseces.exe
HKEY_LOCAL_MACHINE\SOFTWARE\Microsoft\Windows NT\CurrentVersion\SPP
HKEY_LOCAL_MACHINE\SYSTEM\CurrentControlSet\Services\bckd "ImagePath" = "123123.sys"
HKEY_LOCAL_MACHINE\SYSTEM\CurrentControlSet\Services\bckd
HKEY_CURRENT_USER\Software\Microsoft\Windows\