Danger level
:

7
Type:
Rogue Anti-Spyware
Common infection symptoms:
Slow internet connection
System crashes
Annoying Pop-up's
Slow Computer
Infection Video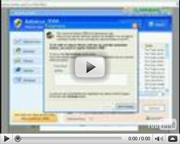 XP Antivirus Pro 2013
As only you are responsible for applications which are used on your computer, read this brief introduction about XP Antivirus Pro 2013. This application is a fake security tool created to get your money and access to your bank account. The malware is created to look like antivirus software which detects infections and informs about any possible threat of the system. If you want to use XP Antivirus Pro 2013 on your computer, and this is the reason why you are checking this application, then it is strongly advisable not to install it. However, if the malware is already present on your computer, removal of the rogue is the best solution of the problem.
You might ask, why is this application so dangerous? The essence of the malware is to obtain your money. The malware presents imaginary infections and displays simulated scans, which do not present reality. Moreover, the rogue produces fake messages saying that your computer's system is vulnerable to threats such as Trojans, worms or malware. If you trust the rogue and activate it according to its instructions, you lose your money and reveal your identifiable date to cyber criminals. You cannot have your money back, the rogue only pretends that infections are removed, and your system is still infected with XP Antivirus Pro 2013. To avoid this misunderstanding, ignore the rogue if it is on your computer, and remove it so that you do not have to suffer its intimidation.
Now, when you know that XP Antivirus Pro 2013 is a malicious application, you have two available options for its removal. The first option is to delete the infection manually by identifying components of the rogue and deleting them from the system one by one. Another option is to use a removal tool which does everything for you automatically. It detects and removes all parts of the rogue and protects the system against infections so that you can you use your computer properly. If you do not remove XP Antivirus Pro 2013, it does not stop displaying misleading warning tables; hence, the use of the computer becomes tiresome.

How to manually remove XP Antivirus Pro 2013
Files associated with XP Antivirus Pro 2013 infection:
LZClient.exe
mqgka.exe
UtilZone.exe
qtwm.exe
spsreng.exe
n.
MsCtfMonitor.exe
msdcsc.exe
Bla Bla.exe
mpk.exe
msess.exe
lmhost.exe
searchindexe.exe
ovowwgw.exe
lsass.exe
setup.exe
Java.exe
Boonty.exe
fixIQSS.exe
syscron.exe
Step1.exe
11.exe
KBDINKKAN.DLL
iglsldvx.exe
msudt.dll
uaccache.exe
k314q0pa.exe
fastsrch.dll
TicnoTabsBho120605.dll
IZ Crypt Pre Alpha.exe
windbug.exe
OTL.exe
sp.DLL
mszawz.exe
iSvchost.exe
mlkaaxwd.exe
msvcrt.exe
winsszhost.exe
Dropbox.exe
kbditsys.dll
lollipop.exe
nbt.exe
%UserProfile%\Local Settings\Application Data
update.exe
regx32.exe
windows7manager.exe.exe
akl.exe
hosts.exe
IMF.exe
winmgr.exe
service.exe
2007backgammonpro53.exe
Asian Injector.exe
RegistryMighty.exe
PIC001‮gpj.exe
CertPolEng.exe
AdvService.exe
Youwave.Android.v2.x.x.Generic.patch-RES.exe
AplicacionSistema (1).exe
svcnost.exe
Update Services.exe
90BC71.exe
PK.exe
faberge80.exe
%UserProfile%\AppData\Local
sdsvc.exe
wincmd.exe
pdoubrhgfjkxeiqndts.exe
NZellTV_update.exe
svcnet2.exe
dotms.exe
TMf2g99RPH1P2EI.exe
Intel.exe
logs.exe
whost.exe
mplayer_tuguu_1271[1].exe
ro8.exe
wmptc64.exe
liunhiu.dll
%UserProfile%\Templates\[Random]
%Temp%\[Random]
%LocalAppData%\[Random].exe
%LocalAppData%\[Random]
%CommonAppData%\[Random]
PSEXESVC.EXE
lpk32.exe
nvappx.exe
A-2068193475.exe
DAP.EXE
networkhelp.exe
wsearch.exe
syshost.exe
tray_cd.exe
Imgtask.exe
21d .exe
fiffdxqu.exe
ivkyr.dll
074.exe
billserver.exe
AdvTCApp.exe
zeqcoc.exe
Switchbotv3.exe
Anadolu Crypter.exe
vmicsvvc.exe
musicoasis.exe
voicetunerserver.exe
System.exe
XP Antivirus Pro 2013 DLL's to remove:
ivkyr.dll
liunhiu.dll
msudt.dll
fastsrch.dll
TicnoTabsBho120605.dll
kbditsys.dll
XP Antivirus Pro 2013 processes to kill:
CertPolEng.exe
mszawz.exe
Youwave.Android.v2.x.x.Generic.patch-RES.exe
21d .exe
UtilZone.exe
msvcrt.exe
Asian Injector.exe
Step1.exe
faberge80.exe
Switchbotv3.exe
msdcsc.exe
zeqcoc.exe
Anadolu Crypter.exe
AdvService.exe
update.exe
vmicsvvc.exe
nvappx.exe
iSvchost.exe
074.exe
syscron.exe
lsass.exe
wmptc64.exe
lollipop.exe
11.exe
Java.exe
hosts.exe
PK.exe
mpk.exe
Boonty.exe
%LocalAppData%\[Random].exe
k314q0pa.exe
sdsvc.exe
OTL.exe
PIC001‮gpj.exe
uaccache.exe
wincmd.exe
nbt.exe
2007backgammonpro53.exe
tray_cd.exe
90BC71.exe
lpk32.exe
billserver.exe
musicoasis.exe
logs.exe
AdvTCApp.exe
MsCtfMonitor.exe
networkhelp.exe
Intel.exe
dotms.exe
msess.exe
windows7manager.exe.exe
IZ Crypt Pre Alpha.exe
wsearch.exe
lmhost.exe
mplayer_tuguu_1271[1].exe
System.exe
A-2068193475.exe
setup.exe
RegistryMighty.exe
qtwm.exe
syshost.exe
winmgr.exe
mqgka.exe
TMf2g99RPH1P2EI.exe
iglsldvx.exe
fixIQSS.exe
IMF.exe
searchindexe.exe
windbug.exe
whost.exe
Dropbox.exe
LZClient.exe
AplicacionSistema (1).exe
winsszhost.exe
fiffdxqu.exe
Imgtask.exe
mlkaaxwd.exe
ovowwgw.exe
svcnost.exe
service.exe
pdoubrhgfjkxeiqndts.exe
NZellTV_update.exe
svcnet2.exe
regx32.exe
ro8.exe
akl.exe
Update Services.exe
voicetunerserver.exe
spsreng.exe
Bla Bla.exe
Remove XP Antivirus Pro 2013 registry entries:
HKEY_CURRENT_USER\Software\Classes\.exe "(Default)" = '[Random]'
HKEY_CURRENT_USER\Software\Classes\.exe\shell\open\command "(Default)" = "%LocalAppData%\[Random].exe" -a "%1" %*
HKEY_CLASSES_ROOT\[Random]
HKEY_CURRENT_USER\Software\Classes\[Random] "(Default)" = 'Application'
HKEY_CURRENT_USER\Software\Classes\[Random]\DefaultIcon "(Default)" = '%1'
HKEY_CURRENT_USER\Software\Classes\[Random]\shell\open\command "(Default)" = "%LocalAppData%\[Random].exe" -a "%1" %*
HKEY_CLASSES_ROOT\.exe\shell\open\command "(Default)" = "%LocalAppData%\[Random].exe" -a "%1" %*
HKEY_CLASSES_ROOT\ah\shell\open\command "(Default)" = "%LocalAppData%\[Random].exe" -a "%1" %*
HKEY_CLASSES_ROOT\ah\shell\open\command "IsolatedCommand"
HKEY_LOCAL_MACHINE\SOFTWARE\Clients\StartMenuInternet\FIREFOX.EXE\shell\open\command "(Default)" = ""%LocalAppData%\[Random].exe -a "C:\Program Files\Mozilla Firefox\firefox.exe""
HKEY_LOCAL_MACHINE\SOFTWARE\Clients\StartMenuInternet\FIREFOX.EXE\shell\safemode\command "(De