Danger level
:

8
Type:
Rogue Anti-Spyware
Common infection symptoms:
Slow internet connection
System crashes
Annoying Pop-up's
Slow Computer
Infection Video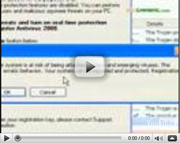 XP Antispyware Pro 2013
Cannot access the Internet and get messages saying that a virus is detected? If the information you get is displayed by XP Antispyware Pro 2013, remove this cunning application from your PC as soon as you can, because this infection wants to make you think that you are infected and convince you to active its full version. According to the rogue, you will be supposedly able to remove the threats if XP Antispyware Pro 2013 is activated. Please ignore the malware's encouragement to active it, because the purchase of the simulated full version will lead you to the loss of your money, not to mention the fact that this dishonest program may record the information that you enter in its purchase form.
It is essential to ignore XP Antispyware Pro 2013 once it starts its "campaign" and attempts to deceive you even if it looks appealing. Pay not attention to the rogue's icons identical to the icons of your OS and the rogue's design that resembles Windows OS. The name of the rogue does not have anything in common with the developer of your operating system, as well. If you truly want to protect your PC and data, install a reliable security application which, in contras to the rogue, will display real pop-up messages if something bad occurs.
If you use a legitimate spyware removal tool, it will detect and remove XP Antispyware Pro 2013 completely. The program will not leave the rogue components so that no further infections will be downloaded. Moreover, you will be able to launch new scans whenever you want to check whether the system is in a satisfactory condition. Nonetheless, if you do not trust automatic antispyware programs, you can delete the infection manually, but keep in mind that you have to delete every single element of the threat.

How to manually remove XP Antispyware Pro 2013
Files associated with XP Antispyware Pro 2013 infection:
%UserProfile%\Templates\[Random]
%Temp%\[Random]
%LocalAppData%\[Random].exe
%LocalAppData%\[Random]
%CommonAppData%\[Random]
XP Antispyware Pro 2013 processes to kill:
%LocalAppData%\[Random].exe
Remove XP Antispyware Pro 2013 registry entries:
HKEY_CURRENT_USER\Software\Classes\.exe\shell\open\command "(Default)" = "%LocalAppData%\[Random].exe" -a "%1" %*
HKEY_CLASSES_ROOT\[Random]
HKEY_CURRENT_USER\Software\Classes\[Random] "(Default)" = 'Application'
HKEY_CURRENT_USER\Software\Classes\[Random]\DefaultIcon "(Default)" = '%1'
HKEY_CURRENT_USER\Software\Classes\[Random]\shell\open\command "(Default)" = "%LocalAppData%\[Random].exe" -a "%1" %*
HKEY_CLASSES_ROOT\.exe\shell\open\command "(Default)" = "%LocalAppData%\[Random].exe" -a "%1" %*
HKEY_CLASSES_ROOT\ah\shell\open\command "(Default)" = "%LocalAppData%\[Random].exe" -a "%1" %*
HKEY_CLASSES_ROOT\ah\shell\open\command "IsolatedCommand"
HKEY_LOCAL_MACHINE\SOFTWARE\Clients\StartMenuInternet\FIREFOX.EXE\shell\open\command "(Default)" = ""%LocalAppData%\[Random].exe -a "C:\Program Files\Mozilla Firefox\firefox.exe""
HKEY_LOCAL_MACHINE\SOFTWARE\Clients\StartMenuInternet\FIREFOX.EXE\shell\safemode\command "(Default)" = ""%LocalAppData%\[Random].exe" -a "C:\Program Files\Mozill