Danger level
:

9
Type:
Rogue Anti-Spyware
Common infection symptoms:
Blocks internet connection
Block exe files from running
Installs itself without permissions
Connects to the internet without permission
Slow internet connection
System crashes
Annoying Pop-up's
Slow Computer
Infection Video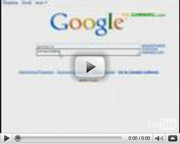 Windows Security System
Windows Security System is a treacherous and simulated computer security tool which infects your PC via a Trojan and attempts to intimidate you into acquiring its non-functional full version. The infection replaces its predecessor such as Antivirus Protection, Security Monitor 2012 and others that used to operate in the same manner. Windows Security System, however appealing it may seem to be, should be removed from the system, because it will not stop displaying misleading information until you buy its nonexistent full version, which supposedly removes all detected infections.
To induce you to activate Windows Security System so that "infections" are removed, different infections are presented in the windows of System Scan. Every infection has its description and the level of danger, which is usually presented as critical. Note that infections presented do not exist in the system; hence, do not bother your head with the threats but remove Windows Security System if you want to avoid annoying Task Bar pop-up messages, of which two are given below:
Security Center Alert
To help protect your computer, Security Center has blocked some features of this program.
Name: Screen.Grab.J.exe
Risk: High
Security Center
Unauthorized remote connection!
Your system is making an unauthorized personal data transfer to a remote computer!
Warning! Unauthorized personal data transfer is detected! It may be your personal credit card details, logins and passwords, browsing habits or information about files you have downloaded.
To protect your private data, please click "Prevent Connection" button below.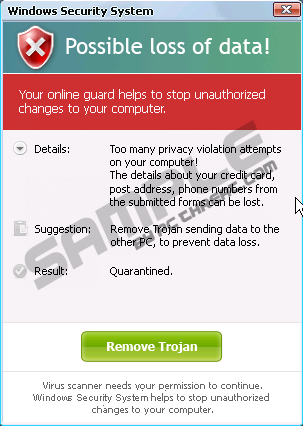 Once you remove Windows Security System, the system's performance is back to normal, because you do not receive simulated messages any longer; the system is again running without any slowdowns, etc. To delete the rogue from the system, you should use an automatic malware removal tool. The program, whose legitimacy you should check before starting to use it, will detect and delete the infection automatically. Nonetheless, you could remove Windows Security System on your own, but you have to be sure that you exactly know how to terminate this dangerous infection by detecting and removing all of its parts manually.
In either case of the removal, before taking any removal-related action, register Windows Security System so as to disabled annoying alert messages.
Activation key: 9YW1-KI7D-V7GG2

How to manually remove Windows Security System
Files associated with Windows Security System infection:
%APPDATA%\Microsoft\Windows\Start Menu\Windows Security System
Windows Security System.exe
Windows Security System.lnk
%PROGRAMFILES%\wss
%UserProfile%\Start Menu\Programs\Startup\[random].lnk
%Temp%\[random].dll
%Temp%\wrk3.tmp
%UserProfile%\Desktop\Antimalware Tool.lnk
%UserProfile%\Application Data\Microsoft\Internet Explorer\Quick Launch\Antimalware Tool.lnk
%AllUsersProfile%\Start Menu\Programs\Startup\[random].lnk
%AllUsersProfile%\Application Data\[random].ico
%AllUsersProfile%\Application Data\[random].avi
%AllUsersProfile%\Application Data\[random]_.mkv
C:\Program Files\Windows Security System\[random].exe
Windows Security System DLL's to remove:
%Temp%\[random].dll
Windows Security System processes to kill:
Windows Security System.exe
C:\Program Files\Windows Security System\[random].exe
Remove Windows Security System registry entries:
HKEY_CURRENT_USER\Software\Microsoft\Windows\CurrentVersion\Run "[random]"
HKEY_LOCAL_MACHINE\SOFTWARE\Microsoft\Windows\CurrentVersion\Run "[random]"