Danger level
:

9
Type:
Rogue Anti-Spyware
Common infection symptoms:
Blocks internet connection
Block exe files from running
Installs itself without permissions
Changes background
Connects to the internet without permission
Slow internet connection
System crashes
Annoying Pop-up's
Slow Computer
Infection Video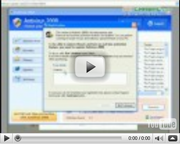 Windows Software Keeper
Windows Software Keeper is a malicious computer application that will stealthily enter your computer, pretending to be a legitimate antivirus program. Since Windows Software Keeper has an exceptionally good-looking interface a lot of users fall for this scheme and get deceived by this fraudulent application. Allowing this rogue antispyware to remain in your computer might signify the complete destruction of the operating system, so you have to terminate Windows Software Keeper immediately.
Even though judging by the rogue's façade, it seems to be very similar to a reliable program, but Windows Software Keeper only wants your money, and it will do everything it can, to rip you off. Once you get infected with Windows Software Keeper, you will see that the rogue is very eager to perform a full system "scan". Unfortunately, that scan is designed to deceive you, making you think that your system is abundant in Trojans and viruses. Windows Software Keeper slows down the target computer, making it seem that you are really suffering from all these infections, and then it pushes you into purchasing the full version of the program.
Whatever you do, do not pay for Windows Software Keeper. You will only lose your money and your computer will still be exposed to violation. Remove Windows Software Keeper from your system at once, and make sure that you don't get infected again. If you cannot erase Windows Software Keeper on your own, do invest in a powerful antimalware tool that will do the job automatically.
UPDATE
It is not hard to fall for the latent tricks of Windows Software Keeper, because it causes symptoms similar to the ones a real infection would cause. To hide the rogue from being removed, you will be denied access to Windows Registry and Task Manager, and there will be no way for you to download and run AV tools, which would allow you manual removal, because of restricted connection to the Internet and blocked running of essential executable files. To trick you even more, Windows Software Keeper will send you many fake security alerts and notifications, which do not represent any truth:
Recommended:
Activate Windows Software Keeper to get ultimate protection against Identity Theft, Viruses, Malware and other threats!
Warning
Firewall has blocked a program from accessing the Internet
C:\program files\internet explorer\iexplore.exe
is suspected to have infected your PC. This type of virus intercepts entered data and transmits them to a remote server.
Warning! Identity theft attempt detected
Hidden connection IP: [random IP address]
Target: Your bank account details.
Your IP: [IP address]

The worst part is that you will not be able to remove these symptoms manually, until you enter Windows Software Keeper registration key, received during the purchase. Good news is, this registration code is available for you down bellow:
Registration key:
0W000-000B0-00T00-E0020
It can become highly difficult to delete Windows Software Keeper, so it best to leave manual removal option to Windows experts, and install software, which will delete the infection for you and will guard you against such cunning attacks in the future. Whichever removal option you choose, make sure to remove Windows Software Keeper from your system as soon as possible, because the more time passes, the more defenseless you Windows system gets to such malware as Trojans, adware or information stealing worms.

How to renew your internet connection:
This rogue antispyware blocks your Internet connection to prevent you from removing the rogue application. To enable the Internet connection, please follow these instructions:
Open Internet Explorer and go to >Tools< select >Internet Options<

Select >Connections<

Select >LAN Settings<

Now you need to uncheck the checkbox labeled >Use a proxy server for your LAN< in Proxy Server section. Then press the >OK< button to close this screen and press the >OK< button to close the Internet Options screen.

Now you can download the SpyHunter scanner and remove the infection.

How to manually remove Windows Software Keeper
Files associated with Windows Software Keeper infection:
Protector-carn.exe
Windows Software Keeper.lnk
%AppData%\NPSWF32.dll
%AppData%\Protector-[Random].exe
%AppData%\result.db
%CommonStartMenu%\Programs\Windows Software Keeper.lnk
%Desktop%\Windows Software Keeper.lnk
Windows Software Keeper DLL's to remove:
%AppData%\NPSWF32.dll
Windows Software Keeper processes to kill:
Protector-carn.exe
%AppData%\Protector-[Random].exe
Remove Windows Software Keeper registry entries:
HKEY_LOCAL_MACHINE\SOFTWARE\Microsoft\Windows NT\CurrentVersion\Image File Execution Options\autoupdate.exe
HKEY_LOCAL_MACHINE\SOFTWARE\Microsoft\Windows NT\CurrentVersion\Image File Execution Options\antivirus.exe
HKEY_LOCAL_MACHINE\SOFTWARE\Microsoft\Internet Explorer\Main\FeatureControl\FEATURE_ERROR_PAGE_BYPASS_ZONE_CHECK_FOR_HTTPS_KB954312
HKEY_CURRENT_USER\Software\Microsoft\Windows\CurrentVersion\Settings "net" = 2012-3-5_1
HKEY_CURRENT_USER\Software\Microsoft\Windows\CurrentVersion\Run "Inspector"
HKEY_CURRENT_USER\Software\Microsoft\Windows\CurrentVersion\Policies\System "DisableTaskMgr" = 0
HKEY_CURRENT_USER\Software\Microsoft\Windows\CurrentVersion\Policies\System "DisableRegistryTools" = 0
HKEY_CURRENT_USER\Software\Microsoft\Windows\CurrentVersion\Internet Settings "WarnOnHTTPSToHTTPRedirect" = 0
HKEY_CURRENT_USER\Software\Microsoft\Windows\CurrentVersion\Policies\System "DisableRegedit" = 0
HKEY_LOCAL_MACHINE\SOFTWARE\Microsoft\Windows NT\CurrentVersion\Image