Danger level
:

9
Type:
Rogue Anti-Spyware
Common infection symptoms:
Block exe files from running
Installs itself without permissions
Connects to the internet without permission
Slow internet connection
System crashes
Annoying Pop-up's
Slow Computer
Infection Video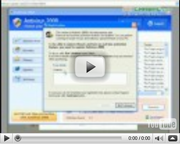 Windows Protection Master
Windows Protection Master is a new player in the rogue antivirus software game. It belongs to the infamous family of Rogue.VirusDoctor, and can create a lot of inconvenience and trouble deleting, once in the system. Like any other malware, Windows Protection Master is generated to make money, so be aware as you can easily become a part of this cunning scheme!

The rogue is able to invade your computer in various ways, and hijackers work hard to discover and employ every possible loophole in the security, making it hard for PC users to detect and remove the rogue. A simplest action, like opening an infected spam email, can instantly prompt an online scanner, which will be the first trick to get your attention. If you do not recognize and ignore the danger immediately, you will accelerate the installation of the rogue software, and your problems will begin.
Once in the system, Windows Protection Master will initiate an unfamiliar fake scanner, which will threaten you with numerous fake "critical" system infections and warnings, even imitating Windows Firewall, just to convince you with rogue's legitimacy. This will help the rogue to deceive you into paying money ($19.95) and disclosing personal details that any third-parties can use to profit from you further.
Firewall has blocked a program from accessing the Internet
C:\windows\system32\dllcache\eappcfg.dll
is suspected to have infected your PC. This type of virus intercepts entered data and transmits them to a remote server.
Error
There's a suspicious software running on your PC.
Error
Keylogger activity detected. System information security is at risk.
It is recommended to activate protection and run a full system scan.
Error
Trojan activity detected. System data security is at risk.
It is recommended to activate protection and run a full system scan.
Bellow we list some of the following lines you can expect in the fake notifications.
Serious slowdown in system performance.
Potential malware detected.
Software without a digital signature detected.
Your system files are at risk. We strongly advise you to activate your protection.
Attempt to modify registry key entries detected.
Attempt to run a potentially dangerous script detected.
Full system scan is highly recommended.
System data security is at risk!
An unexpected memory leak has occurred.
Until you remove Windows Protection Master, annoying pop-up messages and deceiving recommendations will continue to push you to buy and activate the useless full version of this rogue. And the only way to stop this absolutely malicious program is by removing it from your system, which can become quite tricky since Windows Protection Master can restrict access to Windows components like Windows registry and Task Manager.

How to renew your internet connection:
This rogue antispyware blocks your Internet connection to prevent you from removing the rogue application. To enable the Internet connection, please follow these instructions:
Open Internet Explorer and go to >Tools< select >Internet Options<

Select >Connections<

Select >LAN Settings<

Now you need to uncheck the checkbox labeled >Use a proxy server for your LAN< in Proxy Server section. Then press the >OK< button to close this screen and press the >OK< button to close the Internet Options screen.

Now you can download the SpyHunter scanner and remove the infection.

How to manually remove Windows Protection Master
Files associated with Windows Protection Master infection:
%APPDATA%
Inspector-cux.exe
Inspector-svo.exe
Inspector-trb.exe
Windows Protection Master.lnk
Inspector-mhk.exe
Inspector-lbe.exe
%StartMenu%\Programs\Windows Protection Master.lnk
%UserProfile%\Desktop\Windows Protection Master.lnk
%AppData%\result.db
%AppData%\NPSWF32.dll
%AppData%\Inspector-[random].exe
Inspector-trb.exe
Inspector-svo.exe
Inspector-mhk.exe
Inspector-lbe.exe
Inspector-cux.exe
Windows Protection Master processes to kill:
Inspector-cux.exe
Inspector-trb.exe
Inspector-svo.exe
Inspector-mhk.exe
Inspector-lbe.exe
Inspector-cux.exe
Inspector-mhk.exe
Inspector-lbe.exe
Inspector-svo.exe
Inspector-trb.exe
Remove Windows Protection Master registry entries:
HKEY_CURRENT_USER\Software\Microsoft\Windows\CurrentVersion\Internet Settings "WarnOnHTTPSToHTTPRedirect" = 0
HKEY_CURRENT_USER\Software\Microsoft\Windows\CurrentVersion\Policies\System "DisableRegedit" = 0
HKEY_CURRENT_USER\Software\Microsoft\Windows\CurrentVersion\Policies\System "DisableRegistryTools" = 0
HKEY_CURRENT_USER\Software\Microsoft\Windows\CurrentVersion\Policies\System "DisableTaskMgr" = 0
HKEY_CURRENT_USER\Software\Microsoft\Windows\CurrentVersion\Run "Inspector"
HKEY_LOCAL_MACHINE\SOFTWARE\Microsoft\Windows NT\CurrentVersion\Image File Execution Options\adaware.exe "Debugger"
HKEY_LOCAL_MACHINE\SOFTWARE\Microsoft\Windows NT\CurrentVersion\Image File Execution Options\belt.exe "Debugger"
HKEY_LOCAL_MACHINE\SOFTWARE\Microsoft\Windows NT\CurrentVersion\Image File Execution Options\deputy.exe "Debugger"
HKEY_LOCAL_MACHINE\SOFTWARE\Microsoft\Windows NT\CurrentVersion\Image File Execution Options\icload95.exe "Debugger"
HKEY_LOCAL_MACHINE\SOFTWARE\Microsoft\Windows NT\Curr