Danger level
:

9
Type:
Rogue Anti-Spyware
Common infection symptoms:
Blocks internet connection
Block exe files from running
Installs itself without permissions
Connects to the internet without permission
Slow internet connection
System crashes
Annoying Pop-up's
Slow Computer
Infection Video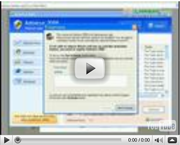 Antivirus Smart Protection
If you are looking for a program that would protect your computer against serious threats, do not choose Antivirus Smart Protection no matter what. The reason why you cannot trust this program is because it is a rogue antispyware which enters your system with one single purpose to rip you off. Antivirus Smart Protection is a robber that damages your computer while it tries to gain access to your financial information. The tricky thing is that thousands of users worldwide actually give away their credit card information by themselves, because Antivirus Smart Protection makes them think it can remove viruses and fix their computer if only they paid for the full version of the program.

There is no need to tell that such statement is an absolute lie, because Antivirus Smart Protection is a computer threat in itself, and it is exactly THIS program that slows down your computer, and THIS program that is responsible for the onslaught of fake security messages that are currently flooding your screen. Antivirus Smart Protection is very cunning in blaming other viruses for these symptoms, but it is doing so only because it wants you to purchase absolutely worthless program, while your computer will continue to be damaged by the rogue. Remove Antivirus Smart Protection using a reliable security application, and make sure that no other parasites are residing in your system. Do not hesitate to invest in your computer's security if need be.
To help removal process of Antivirus Smart Protection we recommend users to enter one of the activation keys:
U2FD-S2LA-H4KA-UEPB
K7LY-R5GU-SI9D-EVFB
UPDATE
The recent research has revealed some new information about Antivirus Smart Protection which has generated from the same family as System Smart Security, Home Security Solutions, Anti-Malware Lab, and others.
It is known that Antivirus Smart Protection does not only install on the computer without permission, it is also capable of doing much greater damage. Starting with bombarding the computer screen with simulated warnings, the malware blocks the execution of most applications, amongst which is your antivirus software.
System Alert
Antivirus Smart Protection has detected potentially harmful software in your system. It is strongly recommended that you register Antivirus Smart Protection to remove all found threats immediately.
System Alert
Suspicious software which may be malicious has been detected on your PC. Click here to remove this threat immediately using Antivirus Smart Protection.
System Alert
Potentially harmful programs have been detected in your system and need to be dealt with immediately. Click here to remove them using Antivirus Smart Protection.
Warning! Virus detected
Threat detected: Trojan-PSW.Win32.Antigen.a
Security Risk: high
Infected File: C:\\Documents and Settings\Administrator\Recent\
Description: This Trojan named ANTIGEN.EXE scans system files for your Internet passwords to steal and misuse them. It also scans your data for more private information: phone…
Recommended: Please click 'Remove all' button to erase all infected files and protect your PC
It was also noticed that Antivirus Smart Protection may hijack the entire system. First, it just slows down the internet and computer performance but later this can lead to the system crash.
Thus, you should "activate" the software first, and then remove the files listed below. In case you are not familiar with manual removal instructions, you should use a legitimate antimalware tool which would not only fix the machine but will also take care of the safety of the entire system.

How to manually remove Antivirus Smart Protection
Files associated with Antivirus Smart Protection infection:
%AllUsersProfile%\?????
%AllUsersProfile%\??????
ASbea_8032.exe
%AppData%\Antivirus Smart Protection\ScanDisk_.exe
%AppData%\Antivirus Smart Protection\Instructions.ini
%CommonAppData%\[random]\[random].cfg
%CommonAppData%\[random]\ISG.ico
%CommonAppData%\[random]\[random].exe
%AppData%\Microsoft\Internet Explorer\Quick Launch\Antivirus Smart Protection.lnk
%Desktop%\Antivirus Smart Protection.lnk
%StartMenu%\Antivirus Smart Protection.lnk
%Programs%\Antivirus Smart Protection.lnk
ASbea_8032.exe
%AllUsersProfile%\Application Data\?????
%AllUsersProfile%\Application Data\??????
Antivirus Smart Protection processes to kill:
ASbea_8032.exe
ASbea_8032.exe
%AppData%\Antivirus Smart Protection\ScanDisk_.exe
%CommonAppData%\[random]\[random].exe
Remove Antivirus Smart Protection registry entries:
HKCU\Software\Microsoft\Windows\CurrentVersion\Run "Antivirus Smart Protection" "%CommonAppData%\[random]\[random].exe" /s /d