Danger level
:

9
Type:
Rogue Anti-Spyware
Common infection symptoms:
Block exe files from running
Installs itself without permissions
Connects to the internet without permission
Normal system programs crash immediatelly
Slow internet connection
System crashes
Annoying Pop-up's
Slow Computer
Infection Video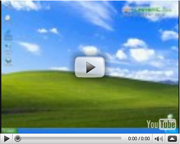 AV Security 2012
If your computer is acting slowly and you receive various security messages one after the other, it might be that you have been infected by AV Security 2012. It is the latest computer threat which has emerged from a prominent family of rogues which means that the creators of AV Security 2012 know exactly what they are doing, and this rogue will stop at nothing until it either kills your system or rips you off, or most probably – both. So your job right now is to find out more about the rogue and disable it as soon as possible. It will enter your system surreptitiously and will not alert you to its presence. At the end of the day AV Security 2012 certainly does not have the ability to protect the PC against any type of threat or infection, and is nothing more than a malicious infection in itself.

AV Security 2012 gets installed into your computer without your knowledge or consent which is very common of these malicious applications. When it is installed, AV Security 2012 is configured to run automatically whenever you start the Windows, and when it pops into action, the rogue pretends to be a legitimate antivirus program. It will initiate a fake system scan which will generate a list of false positive infections and threats. AV Security 2012 will inform the user that he needs to activate the program in order to remove all the viruses, but by doing that you would only lose your money and your computer would still be exposed to even more serious threats.
As a further attack on the system AV Security 2012 will start to spam the user with numerous falsely generated security threats which comes in the form of pop up messages. These annoying pop ups will inform the user of the same thing the fake security scan does, that he needs to pay for AV Security 2012 products in order to get rid of these supposed threats and restore his system's protection. Some of these annoying popup messages to be on the lookout for include the following:
Security Warning
Your computer continues to be infected with harmful viruses. In order to prevent permanent loss of your information and credit card data theft please activate your antivirus software. Click here to enable protection.
Security Warning
Malicious programs that may steal your private information and prevent your system from working properly are detected on your computer.
Click here to clean your PC immediately.
Security Warning
There are critical system files on your computer that were modified by malicious software.
It may cause permanent data loss.
Click here to remove malicious software.

Users have also reported various distressing symptoms associated with this rogue – these ranges from users being unable to establish an Internet connection to poor system performance an increased erratic system behavior. Users have also complained about being unable to execute applications on the infected PC.
Do yourself a favor and remove AV Security 2012 as soon as you can. If you cannot perform that manually, get yourself a powerful antimalware program that will wipe AV Security 2012 from your system without any trace in no time.

How to manually remove AV Security 2012
Files associated with AV Security 2012 infection:
8F8.exe
s523lswp98.exe
FVelOBtzPyAiDoF.exe
ABE.exe
lvvm.exe
B69.exe
s523l22mix.exe
%UserProfile%\Start Menu\Programs\AV Security 2012
1A1B9.exe
klmqm122y.exe
AV Security 2012.lnk
F9EF3.exe
n.
AV Security 2012v121.exe
AV Security 2012.lnk
zaberg.exe
v4xEDEgT.exe
s523lswp98.exe
s523l22mix.exe
lvvm.exe
klmqm122y.exe
FVelOBtzPyAiDoF.exe
F9EF3.exe
AV Security 2012v121.exe
ABE.exe
8F8.exe
454.exe
1A1B9.exe
%AppData%\[random]\
%AppData%\ldr.ini
%AppData%\svhostu.exe
%AppData%\[random]\AV Security 2012.ico
%StartMenu%\Programs\AV Security 2012\
%StartMenu%\Programs\AV Security 2012\AV Security 2012.lnk
%StartMenu%\Programs\Startup\crss.exe
%System%\[random].exe
%UserProfile%\Desktop\AV Security 2012.lnk
%Temp%\svhostu.exe
zaberg.exe
454.exe
v4xEDEgT.exe
53VW84ed.exe
AV Security 2012 processes to kill:
B69.exe
1A1B9.exe
lvvm.exe
FVelOBtzPyAiDoF.exe
ABE.exe
F9EF3.exe
zaberg.exe
v4xEDEgT.exe
s523lswp98.exe
s523l22mix.exe
lvvm.exe
klmqm122y.exe
FVelOBtzPyAiDoF.exe
F9EF3.exe
AV Security 2012v121.exe
ABE.exe
8F8.exe
454.exe
1A1B9.exe
%System%\[random].exe
%Temp%\svhostu.exe
%StartMenu%\Programs\Startup\crss.exe
%AppData%\svhostu.exe
klmqm122y.exe
454.exe
53VW84ed.exe
AV Security 2012v121.exe
s523l22mix.exe
v4xEDEgT.exe
s523lswp98.exe
zaberg.exe
8F8.exe
Remove AV Security 2012 registry entries:
HKEY_LOCAL_MACHINE\SOFTWARE\Microsoft\Windows\CurrentVersion\Run "[random]"
HKEY_CURRENT_USER\Software\AV Security 2012