Danger level
:

9
Type:
Rogue Anti-Spyware
Common infection symptoms:
Changes background
Shows commercial adverts
System crashes
Annoying Pop-up's
Slow Computer
Infection Video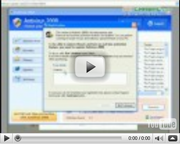 Windows XP Fix
Developers of rogue security these days invest a lot more time and sophistication into their applications in order to remain competitive, as in the case of Windows XP Fix. This rogue in particular forms part of a family of rogues capable of adapting to their environments. This means that depending on which operating system the user is running, be it Windows 7, XP or Vista, Windows XP Fix will adapt its name to fit with the operating system. This is only one part of the newly developed and more sophisticated rogues; this rogue is also more resilient and the user will find it extremely difficult to get rid of Windows XP Fix without some help.
Windows XP Fix does not break new ground in its infiltration and infection tactics. It makes use of established forms of infection, infiltrating its victim's PC through browser hijackers and infected online flash ads, among other tactics. These methods all form a part of Windows XP Fix's online marketing campaign. Once the rogue manages to root itself in the system, it will only then reveal its presence to the user and start its attack against the system.

Because of its stealth infiltration, the user will not even be aware of Windows XP Fix's presence on the system until it is too late. Windows XP Fix will start its attack against the system by initiating a fake system scan which will supposedly scan the PC's hard drives and RAM Memory for errors, and will yield many fake results to falsely panic the user into paying for its rubbish software.
As a further attack, Windows XP Fix will be the cause of all the dire symptoms it will warn the user about. This is in an effort to further panic the user and convince him that his system is running less than optimally. Windows XP Fix will spam the user with incessant pop up messages informing him of various errors racking the system. These are all fake and should not enjoy any attention. Some of the more popular fake alerts to be on the lookout for include the following:
Hard Drive Failure
The system has detected a problem with one or more installed IDE / SATA hard disks. It is recommended that you restart the system.
System Error
An error occurred while reading system files. Run a system diagnostic utility to check your hard disk drive for errors.
Critical Error
Hard drive critical error. Run a system diagnostic utility to check your hard disk drive for errors. Windows can't find hard disk space. Hard drive error.
Critical Error!
Damaged hard drive clusters detected. Private data is at risk.
Critical Error
Hard Drive not found. Missing hard drive.
Critical Error
RAM memory usage is critically high. RAM memory failure.
Critical Error
Windows can't find hard disk space. Hard drive error
Even from reading the above fake alerts can you be sure that Windows XP Fix is indeed a rubbish software application. The above fake alert states that Windows is unable to find hard disk space, which is impossible otherwise Windows would not be able to run. It is clues like these that point to the real nature of deceitful and harmful rogues like Windows XP Fix.
Other symptoms associated with the Windows XP Fix rogue include the user being unable to establish an Internet connection, and extremely poor system performance. Windows XP Fix will also generate and delete random Desktop items, and will hide folder contents from the user.
If you want to limit the damage this rogue will be able to cause to your PC and take back what is rightfully yours, destroy Windows XP Fix immediately. The safest way to do this will be to make use of a powerful security tool which will offer adequate protection against similar attacks and threats in future.

How to manually remove Windows XP Fix
Files associated with Windows XP Fix infection:
Windows XP Fix.lnk
eHmcHPSHLtmC.exe
Uninstall Windows XP Fix.lnk
%USERPROFILE%\Start Menu\Programs\Windows XP Fix
14147364.exe
Windows XP Fix.lnk
Uninstall Windows XP Fix.lnk
eHmcHPSHLtmC.exe
14147364.exe
Windows XP Fix processes to kill:
14147364.exe
eHmcHPSHLtmC.exe
eHmcHPSHLtmC.exe
14147364.exe