Danger level
:

9
Type:
Rogue Anti-Spyware
Common infection symptoms:
Installs itself without permissions
Connects to the internet without permission
Slow internet connection
System crashes
Annoying Pop-up's
Slow Computer
Infection Video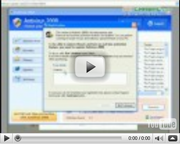 Windows Vista Repair
Windows Vista Repair is a rogue antispyware application which looks very much like a useful system optimization tool, but in fact it only damages your computer while it performs its dirty deeds. The main goal of Windows Vista Repair is ripping you off, and it won't stop until achieves it or leaves your computer in ruins. Therefore, you need to be particularly careful about this infection, because it targets to things – your system and your bank account.
The first symptoms of Windows Vista Repair infection are fake notifications about various errors in your system. You receive them even before the rogue roots in your computer. They are generated by Trojan infections which you catch by opening a hacked website or by clicking on an infected link while browsing the Internet. With these Trojan-generated messages the cyber criminals are trying to persuade to download and install Windows Vista Repair, because supposedly this is the best software for you if you want to get rid of all the bugs and errors. Were you to click on any of these messages, Windows Vista Repair will find a way in.
If this rogue manages to penetrate into your system, it settles in there and then performs certain system modifications which allow it to load every single time you boot your computer. Then it starts working and wants you to believe that your computer is at high risk – usually Windows Vista Repair does not allow you to execute certain programs allegedly claiming that they are infected with malware and need to be closed in order to protect your computer from further infections. Then Windows Vista Repair runs a FAKE system scan and urges you to activate the Advanced Module, because the Standard Module cannot fix all the problems that the program has "found".
Activating the Advanced Module is not an option. That would only give the cyber criminals the key from your bank account and they would be able to steal your money anytime. You must keep your credit card information to yourself and deal with these computer issues in other way.
You have to realize that the problems reported by Windows Vista Repair do not exist. The only problem you are facing is the program itself. So you need to erase Windows Vista Repair from your computer immediately. Manual removal might seem a little bit too challenging, so if you are not sure of your computing skills get yourself legitimate antivirus software and terminate Windows Vista Repair automatically.

How to manually remove Windows Vista Repair
Files associated with Windows Vista Repair infection:
%Programs%\Windows Vista Repair\Windows Vista Repair.lnk
%Programs%\Windows Vista Repair
%Desktop%\Windows Vista Repair.lnk
%Temp%\dfrgr
%Temp%\dfrg
%Temp%\[random].exe
%Temp%\[random]
Windows Vista Repair processes to kill:
%Temp%\[random].exe
Remove Windows Vista Repair registry entries:
HKCU\Software\Microsoft\Windows\CurrentVersion\Run "[random]"
HKCU\Software\Microsoft\Windows\CurrentVersion\Run "[random].exe"