Danger level
:

9
Type:
Rogue Anti-Spyware
Common infection symptoms:
Block exe files from running
Installs itself without permissions
Connects to the internet without permission
Slow internet connection
System crashes
Annoying Pop-up's
Slow Computer
Other mutations known as:
Infection Video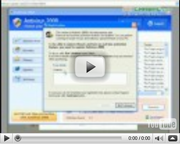 E-Set Antivirus 2011
When dealing with unknown or suspicious applications, it's best to err on the side of caution, especially with E-Set Antivirus 2011. This rogue antispyware application, which derives from the same despicable family of rogues as Fake AVG Antivirus 2011, tries to fool its victims into accepting it as legitimate by playing on the name of the popular ESET antivirus program. E-Set Antivirus 2011 is a fake security tool and has no affiliation with any other legitimate security program or application. Despite what this rogue would like its victims to believe, E-Set Antivirus 2011 has no ability to protect a system, nor to identify or remove any type of threat or infection from an infected PC.
Seditious browser hijacking websites and bogus online malware scanners promote the E-Set Antivirus 2011 rogueware. E-Set Antivirus 2011 has also been known to use other avenues of spreading its Trojans and malware, including bundling it together with other legitimate security updates and downloads obtainable from third party websites.

E-Set Antivirus 2011's infiltration of the system is done so surreptitiously that the user will be unaware of its presence until such time that it decides to start its attack on the PC. This makes it that much harder to identify and remove E-Set Antivirus 2011 from the system. The first clue the user will have as to the presence of E-Set Antivirus 2011 on the system will come from various falsely generated security messages aimed explicitly at panicking the user into paying for E-Set Antivirus 2011's worthless software. Do not pay any attention to these fake warnings, as they are all completely without basis or merit. Be on the lookout for the following fake security alerts by E-Set Antivirus 2011:
Virus and spyware database is out of date.
New important updates:
Anti-virus database definitions update
Anti-spyware database definitions updates
Critical system vulnerabilities fix
Optional updates
Resident shield update
Internet Explorer potential vulnerabilities fix
Abut Internet Explorer Emergency Mode
Your PC is infected with malicious software and browse couldn't be launched.
You may use Internet Explorer in emergency Mode – internal service browser of Microsoft Windows system with limited usability.
Notice: Some sites refuse connection with Internet Explorer in Emergency Mode. In such case system warning page will be showed to you.
Threat name: Spyware.BANKER.ID
Alert lever:
Action: fix this file
Infected file: C:\\CONFIG.SYS
Description: This spyware uses social engineering methods to lure users into performing certain actions that may, directly or indirectly, cause malicious routines to be performed. It attempts to steal sensitive online banking information, such as user names and passwords. It sends the gathered information via HTTP POST to a remote URL.,
Note all the spelling and grammatical mistakes contained in the above fake security alerts. These fake alerts do not deserve any attention, and all correspondence received from E-Set Antivirus 2011 should be regarded as extremely suspect.
NOTICE
Users who did not manage to get rid of E-Set Antivirus 2011 in time complained about various distressing and severely annoying symptoms on their infected PCs, most notably the inability to connect to the Internet. Although this is particularly annoying, there is a way to free your Internet connection, which will ultimately help you to erase E-Set Antivirus 2011 for good.
Depending which browser you use, navigate over to C:\Program Files\Internet Explorer. Once there, look for the Internet Explorer .exe file named iexplore.exe. Edit the name of the file by adding any other character, for instance iexplore_.exe or imexplore.exe. This can work on any other browser you might want to use it on. While E-Set Antivirus 2011 is looking to block the specific assigned processes of Internet browsers, editing their executable files will prevent E-Set Antivirus 2011 from detecting it and will allow you to connect to the Internet.
In order to effectively destroy E-Set Antivirus 2011 from your PC and regain control of what is rightfully yours you should invest in a genuine security tool which will be able to do just that. This will not only eliminate E-Set Antivirus 2011 from your system, but continue to offer you future protection against similar threats and attacks.

How to manually remove E-Set Antivirus 2011
Files associated with E-Set Antivirus 2011 infection:
e-set.exe
%AllUsersProfile%\Start Menu\E-Set 2011
%WinDir%\system32
E-Set Antivirus 2011.lnk
e-set.exe
%startmenu%\e-set 2011\uninstall.lnk
%startmenu%\e-set 2011\e-set antivirus 2011.lnk
%system%\msiexecs.exe
%desktop%\e-set antivirus 2011.lnk
%programfiles%\e-set 2011\e-set.exe
%ProgramFiles%\E-Set 2011
E-Set Antivirus 2011 processes to kill:
e-set.exe
%system%\msiexecs.exe
%programfiles%\e-set 2011\e-set.exe
e-set.exe
Remove E-Set Antivirus 2011 registry entries:
HKCU\Software\A88246
HKCU\Software\Mon246
HKCU\Software\Microsoft\Windows\CurrentVersion\Run "E-Set 2011″