Danger level
:

8
Type:
Rogue Anti-Spyware
Common infection symptoms:
Installs itself without permissions
Connects to the internet without permission
Slow internet connection
System crashes
Annoying Pop-up's
Slow Computer
Infection Video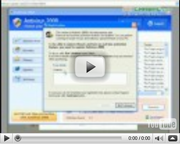 PC optimizer 2010
It would seem as though developers have had to bring out a clone called PC optimizer 2010, as the PrivacyGuard 2010 had started receiving too much attention. This is evidence in itself that rogue system optimization tool PC optimizer 2010 cannot and should not be trusted.
Working in exactly the same way as its predecessor, and with the exact same agenda PC optimizer 2010 will do everything in its power to convince the user of its legitimacy, and that his PC is being crippled by various errors and problems. After successfully convincing the user of his system's dire state, PC optimizer 2010 will inform the user that the only way to restore his PC's health is by paying for its worthless software.
Spread via sneaky Trojans and harmful malware, PC optimizer 2010 will barrage the user with various fake security notifications. Some of these notorious notifications reads as follows:
"Warning!
Security alert
Name: taskmgr.exe
Location: C:WINDOWSSystem32
Attempt to modify register key entries is detected. Register entries analysis is recommended.
Deny or Enable Protection."
"Warning!
Security alert
Name: taskmgr.exe
Location: C:WINDOWSSystem32
Potentially harmful script execution is detected. It is strongly recommended to run total System scanning.
Deny or Enable Protection."
Quite obviously PC optimizer 2010 does not own the ability to remove any errors or infections. It will not live up to any of its promises, and will not offer any benefit to a PC. For these reasons users are well advised to obliterate PC optimizer 2010 off their systems. Always keep your security software updated with the latest definitions, in an effort to effectively be able to get rid of PC optimizer 2010 and similar threats in future.