Danger level
:

9
Type:
Rogue Anti-Spyware
Common infection symptoms:
Installs itself without permissions
Connects to the internet without permission
Shows commercial adverts
Slow internet connection
System crashes
Annoying Pop-up's
Slow Computer
Infection Video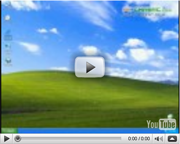 Total Anti Malware Protection
You would not even think about spending one dime on a computer program that can not produce any benefits to you or your Windows system. That is why Total Anti Malware Protection, a fake antispyware application, should be ignored by all means too! Despite boasting of abilities to protect your system and delete such malware as Trojans, viruses and worms, Total Anti Malware Protection is not capable of performing such tasks, as it is yet another instrument that schemers use to get your money. And if you think for a second that such a program could never fool you, recognize that Total Anti Malware Protection is a product designed by highly experienced IT professionals, who use their knowledge for such illegal endeavors.
Exactly because Total Anti Malware Protection is in the hands of knowledgeable crooks, this infection might invade most computers, unprotected by up-to-date security tools. And various measures have been implemented to fool you too! Total Anti Malware Protection could be downloaded with a bundled download, camouflage itself as a real video codec, or could even invade with the help of cunning Trojans. Once the security is breached and your naive trust is used for the infiltration, Total Anti Malware Protection enters and starts mimicking an infection. There may be various Windows malfunctions happening alongside the invasion, and you might even notice decreased PC performance or disability to control your Windows OS in a usual manner. These and various other dysfunctions are created by hackers to hide Total Anti Malware Protection from being removed, but if you notice this name on an uncouth computer scanner, and various security alerts start popping up, Total Anti Malware Protection's removal is your only option!
You can easily delete Total Anti Malware Protection by acquiring trustable security software, which has been designed to deal with such rogues. So, do not spend money on this fake application's recommended licensed tools, and rather invest it in legitimate Windows protection programs. This particular solution is exceptionally helpful to those PC users, who do not know much about Total Anti Malware Protection, malware alike, and complex removal requirements, such bogus software demand.
UPDATE
Total Anti Malware Protection is an alternate version of Rogue.VirusDoctor family fake antispywares, which follows the same patterns of Antimalware PC Safety, Smart Anti-Malware Protection or Malware Protection Center. All of these clones have already been removed, but with the help of Total Anti Malware Protection, schemers are attacking again.
Total Anti Malware Protection is known to remove access to Internet connection, slow down your PC, cause system crashes, so we advise using an activation code, which will remove any Windows dysfunction, and will help you start Total Anti Malware Protection's removal operations:
Activation code:

U2FD-S2LA-H4KA-UEPB
This measure will also remove such Total Anti Malware Protection's fake security notifications:
Warning! Virus detected
Threat Detected: Trojan-PSW.VBS.Half
Description: This is a VBScript-virus. It steals user's passwords.
System Alert
Total Anti Malware Protection has detected potentially harmful software in your system. It is strongly recommended that you register Total Anti Malware Protection to remove all found threats immediately.
Recommended: Please click "Remove all" button to erase all infected files and protect your PC
Note: to help you with Total Anti Malware Protection's removal, we also recommend using Internet renewal instructions (see bellow), which will help restore Internet connection and install legal removal tools.

How to manually remove Total Anti Malware Protection
Files associated with Total Anti Malware Protection infection:
Total Anti Malware Protection.lnk
TAe0e_8001.exe
%UserProfile%\Start Menu\Programs\Total Anti Malware Protection.lnk
%UserProfile%\Start Menu\Total Anti Malware Protection
%UserProfile%\Desktop\Total Anti Malware Protection
%AllUsersProfile%\Application Data\[Random].exe
%AppData%\Microsoft\Internet Explorer\Quick Launch\Total Anti Malware Protection.lnk
%AppData%\Total Anti Malware Protection
Total Anti Malware Protection processes to kill:
TAe0e_8001.exe
%AllUsersProfile%\Application Data\[Random].exe
Remove Total Anti Malware Protection registry entries:
HKEY_CURRENT_USER\Software\Microsoft\Windows\CurrentVersion\Policies\Explorer\DisallowRun = 01000000
HKEY_CURRENT_USER\Software\Microsoft\Windows\CurrentVersion\Policies\Explorer\DisallowRun\[1...15]
HKEY_CURRENT_USER\software\Microsoft\Windows\CurrentVersion\Run\Total Anti Malware Protection = "%AllUsersProfile%\Application Data\[Random]\[Random].exe" /s /d
HKEY_LOCAL_MACHINE\SOFTWARE\Microsoft\..{RunKeys}
HKEY_LOCAL_MACHINE\software\microsoft\Windows NT\CurrentVersion\Image File Execution Options\[RANDOM].exe\Debugger = svchost.exe