Windows Ultra-Antivirus
More and more fake antispywares emerge every day, and Windows Ultra-Antivirus is a rogue application, which can infect your Windows system right now! This highly dangerous infection has been noted to invade computers using a number of different infiltration channels, and if one PC can be attacked by the virus via spam email attachments or fake online advertisement, others can miss the malignant program coming via bundled downloads or social engineering scams. If you do not delete Windows Ultra-Antivirus timely, this infection is likely to introduce various Windows dysfunctions, which could make it impossible to remove the virus or even control your personal system.
The main trick that cyber criminals will use to fool you into purchasing rogue's full version is the deceitful rogue's interface, which looks very similar to the ones of truly legitimate software. This interface will pretend to scan your system, and various fictitious infections will be allegedly detected. This mimicked infection will be enforced by all fake security warnings, which will recommend activating Windows Ultra-Antivirus's licensed version, supposedly capable of malware removal.
You should not believe that infection's full version is legitimate and truly could help you with malware detection and removal, or overall system's protection. This bogus application is simply meant to drag out your money, and there is no way to tell how cyber criminals could use information, collected during money transactions, in the future. To avoid any illegal activity and regain control over Windows, you should remove Windows Ultra-Antivirus right away. Note that if you have no previous manual removal experience, you should leave this option to experts, and stick with automatic tools to do the job for you.

Danger level
:

9
Type:
Rogue Anti-Spyware
Common infection symptoms:
Blocks internet connection
Installs itself without permissions
Connects to the internet without permission
Slow internet connection
System crashes
Annoying Pop-up's
Slow Computer
Infection Video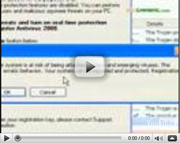 How to manually remove Windows Ultra-Antivirus
Files associated with Windows Ultra-Antivirus infection:
rool3_pk.exe
Windows Ultra-Antivirus processes to kill:
rool3_pk.exe
Remove Windows Ultra-Antivirus registry entries:
wazibtuqtugp
WinUltraAntivirus